Tim Heidecker On Fatherhood and Making Trump's Dream Spy
Tim Heidecker talks about his weird sense of humor and being a dad.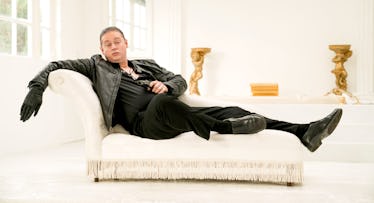 Tim Heidecker is an acquired taste. He's weird. He's crass. He doesn't mind making an offbeat sound over and over and over again to elicit a reaction. But his absurdist humor also happens very, very funny. Maybe you're familiar with his cult-comedy classic Tim and Eric Awesome Show, Great Job, which aired from 2007-2010. Or maybe you're familiar with his John C. Reilly-starring local news parody Check It Out! With Dr. Steve Brule. Or maybe you're familiar with his most recent work, Decker: Unsealed, which is entering its second season on June 4. Centering around Jack Decker, a Jack Bauerian covert agent who fights Dracula and loves justice as much as he loves America and conservative values, it's weird and, naturally, very, very funny.
As the father of a 4-year-old and 7-month-old infant, Heidecker balances his absurdist hijinks with a dose of standard dadding. And he says, while fatherhood hasn't made his comedy any less dark, it has made him more anxious in general. Fatherly spoke with Heidecker about Decker's unparalleled masculinity, making fart sounds with his daughter, and the most difficult part of being a dad.
Your humor tends to skew pretty dark. Has becoming a dad changed that at all?
It provides more material and I use diapers a lot more in my comedy, but that's it. I just made something with Eric [Wareheim] for [Tim and Eric's] Bedtime Stories. It is as dark as anything we've ever done, and it involves kids. And Eric was like "how do you live with yourself as a dad making this kind of stuff?" But I separate the two. I can make something fucked up and then head home and be a great dad. But the idea of not making a joke about kids getting cancer just because I'm a dad is ridiculous.
How do you feel about being a dad?
I'm about three years in, and it's lovely. I have a great relationship with my daughter, and my wife likes to joke we're more like brother and sister. We like to goof on each other a lot. Call each other "butts" and make fart noises. She's silly like me.
What's the hardest part of being a parent?
The relentlessness of it. It never stops. My son is at that age where he is up crying through the night, and it puts a lot of stress on me and my wife. We are all walking around a little stunned and exhausted. It's beyond a full-time job. It's nonstop. But it's fun, and as they get older, it's more fun.
Also the fear. Right before I became a dad, my friend told me, "Get ready to have the worst sinking feeling in your stomach for the rest of your life." And he's right. I am constantly worried. Especially when I'm not around. I don't know how you get over it, because the fear is very real and constant. It's a new kind of fear that might never go away.
Jack Decker has no fear. What can fans expect for the second season?
The new season will be 10 percent higher quality. Six percent better production value. And it goes ever further up its own ass.
Do you have an exact percentage for how much further up its own ass season 2 goes?
It will go 36 percent further up its own ass (Laughs).
https://www.instagram.com/p/BLT5b8zjXE-/
With Tim Allen now off the air, is Decker America's "Last Man Standing"?
Absolutely. There's no room for traditional conservative values on TV anymore. So Decker is the last man carrying that torch. Decker would consider himself a proud boy. He's a guy who believes in traditional values, American values, and he's very proud of that.
The first episode of the new season shows Decker trying to learn more about his father. Will this be a theme throughout the season?
One thing that we find really funny is redundancy. We like to pretend that we are making a show about people making the show Decker. And those people have very few ideas. So this season is once again the President telling heroic stories about Jack Decker, but now it's just him telling it to Decker's son.
Dracula was a major villain in the first season. And it looks like his son is a prominent player in this season. Is there a father-son theme?
There definitely is. At first, I wanted to name the season "Decker Jr. versus Dracula's Son." That's the hidden title.
What makes Decker the greatest secret agent of all time?
He's never wrong. He's incredibly strong, smart, and believes in limited government, personal responsibility, and equal rights for all. Not just special interest groups and minorities. True equality.
Is the show poking fun at our culture's obsession with masculinity?
That's definitely part of it. That's a fun part of the world that I like to satirize. The Sean Hannitys and Glenn Becks who have such a problem with "snowflakes" while simultaneously believing they are the most oppressed people in society.
What would Decker's advice be for the fathers of America?
Raise sons.
Decker: Unsealed premieres Sunday, June 4 at Midnight on Adult Swim.
This article was originally published on