Tig Notaro Says Parenting Two Boys Is Sometimes "Like a Zombie Battle"
"I don't really have the full picture of who I am as a parent."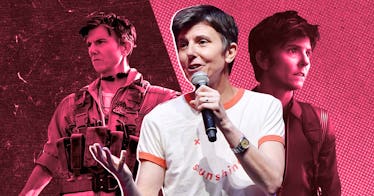 Getty / Netflix / CBS
Possibly the best late-night Netflix double-feature for parents would be to watch the new zombie-action flick Army of the Dead and then immediately follow it with Tig Notaro's stand-up special, Happy to Be Here. Before very recently, the notion that Notaro would be a major presence in both of these disparate projects would seem unlikely. But, with her role in the newest Zack Snyder action opus, Notaro might be on a career path that could make future generations forget she started out as a freaking hilarious and down-to-Earth stand-up comic. Although Notaro's gun-toting, helicopter-flying Marianne Peters was a late addition to Army of the Dead, following the dismissal of actor Chris D'Elia, this is not technically her first action-adventure role. Since 2019, Notaro has appeared in Star Trek: Discovery, as a kind of funnier Scotty, the wise-cracking engineer Jett Reno, a character she herself named.
"I think there's a lot of action on Star Trek going on around me," Notaro tells Fatherly. "There are moments where the ship gets jolted or something. At one point I had to fall on a mattress, and that was the extent of my really big action work unless I'm forgetting something. But flying the helicopter on Army of the Dead — that felt way more in the action than I am on Star Trek."
In addition to leaping into the 32nd Century and fighting a zombie uprising, Notaro is a parent — along with her partner Stephanie – of two 4-year-old boys named Max and Finn. If you've watched any of her stand-up, then you know Notaro has some of the best parent-themed comedy in this or any other universe. "You can't just let the little blobs fall," she jokes about having toddlers in Happy To Be Here. But now, those blobs are getting bigger. Is raising two boys more like fixing a starship or fighting zombies?
"It probably goes back and forth," Notaro says. "I'd say a lot less fighting zombies, but there are definitely those moments where you're at the end of the day and two little boys have been playing baseball for 10 hours straight. It's all about trying to get the zombies clean and tucked into bed. But they comply. So, we don't have the major zombie battles at our house. Sometimes it's like a zombie battle. But not usually."
Like many of us with very small children, Notaro also reveals that certain things she thought about parenting four years ago have turned out to be slightly different than she assumed. Like her evolving career path, Notaro is wisely flexible about how she sees herself as a parent.
"I'm only four years into parenting," she says. "I don't really have the full picture of who I am as a parent. It's kind of daunting when I consider these four-year-old guys becoming teenagers and adults. I'm really curious to see who Stephanie and I are as parents. I've learned that it's nice to have an idea of how you'd like parenting to go, but you have to step back and let things go. Not in a negligent way, just like these people are who they are. And I need to be there to nurture them as they become more of who they are, more defined versions of themselves. I don't think I had a full understanding that these people are born who they are. They're going to be who they are and do what they're gonna do."
Although Notaro has said elsewhere that she wished that her taking the role in Army of the Dead was under "better circumstances," she tells Fatherly that working with Zack Snyder was its own reward. The two bonded with chats about "doting on our kids," and Notaro felt that despite the "crazy bloody" action of Army of the Dead, that the film "has so many many positive elements, down to working with somebody like Zack Snyder."
Will her career keep going toward more action-adventure roles? Could this be the dawn of the greatest action star of the 21st Century? Notaro is humble and ready for whatever happens next. Right now, she's in Toronto, filming Season 4 of Star Trek: Discovery, while working on a podcast with Cheryl Hines of Curb Your Enthusiasm fame. But she is aware that Army of the Dead might shake things up for her.
"Star Trek was a nice stepping stone into this world," Notaro reflects. "I think when I joined the Star Trek world there was a little bit of a feeling from myself and the fans like Huh, Tig in this? Then it seemed like it worked out okay! And this feels like a slightly bigger leap."
Star Trek: Discovery streams on Paramount+.
Army of the Dead is streaming on Netflix on May 21.