'Thor: Love and Thunder' Cameo Leaks Will Blow Your Mind – Spoilers!
One of comedy's top power couples will be appearing in the highly-anticipated sequel.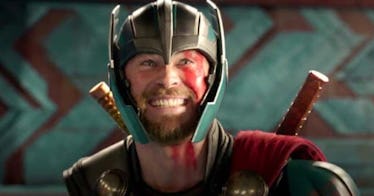 Disney
Of all of the upcoming films on the MCU slate, perhaps none are more highly-anticipated than Thor: Love and Thunder. And it's not just fans who are excited, even movie stars are doing everything they can to get involved in the fourth God of Thunder film, including comedy power couple Melissa McCarthy and Ben Falcone, who were seen filming scenes for Love and Thunder.
Photos of McCarthy and Falcone on the set of Love and Thunder in Australia were shared by the Daily Mail and fans of the Thor franchise will likely notice that McCarthy's costume shares a striking resemblance with one of the villains from the previous films. That's right, McCarthy appears to be portraying "Hela," confirming that Love and Thunder will reprise one of the funniest sequences from Ragnarok: the intentionally bad, cameo-stuffed play to recap the events of the last film.
For those who don't remember, Ragnarok began with an Asgardian play that showed the heroism of Loki, with Matt Damon making an expected cameo in the role of the actor portraying the God of Mischief. And it looks like Love and Thunder is following its predecessor's lead by recapping the events of Ragnarok with some intentionally bad theatre and McCarthy playing the role of "Hela," Thor's half-sister who ended up destroying Asgard.
The photos show that Damon will also be returning to the film, along with Luke Hemsworth filling in for his brother Chris for the play's version of "Thor." What role Falcone, who mostly works as a director and writer with McCarthy, will be playing is currently unknown.
Back in December, McCarthy and Falcone voiced their desire to be cast in Love and Thunder on Instagram, with Falcone saying that the two were "desperate" to appear in the sequel. And now it appears that their wish came true.
Thor: Love and Thunder is scheduled to be released in theaters on February 11, 2022.