This New 'Masters of the Universe: Revelation' Trailer Is A LOT
He-Man is back and he's not messing around.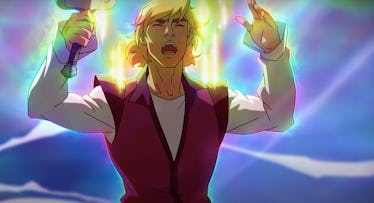 Are you holding out for a hero? Is that hero He-Man and the Masters of the Universe? Do we have a Netflix trailer for you! Since 1983, the most powerful man to rock a blonde bob has undoubtedly been He-Man. In 1989's Ghostbusters 2, the immortal popularity of this low-key Conan rip-off was made clear when children answered the question of "Who you gonna call?" with the words "He-Man!! He-Man!!"
So, are you ready for He-Man to return? This isn't a reboot. It isn't really a remake. This is just a new, high-octane version of He-Man, that, in theory, is a direct sequel to the original '80s show. Part 1 of the new series hits Netflix on July 23, and then the new trailer for the show just dropped. You can watch it above, but I think you'll agree that it's a lot to process.
He-Man looks like he's become like 4 He-Mans. Skeletor (voiced by Mark Hamill!) has a giant purple hand, and Bonnie Tyler's "Holding Out For a Hero" is blasting like 1984 never ended. We're ready for the Power of Grayskul's nostalgia. Or are we?
Watch the trailer below.
Masters of the Universe: Revelation hints Netflix on July 23
This article was originally published on