This 'Ghostbusters' + Patrick Swayze In 'Ghost' Mashup Will Make Your Day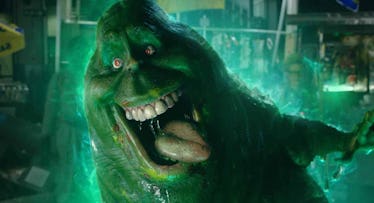 Credit: Sony/Columbia
Things are a little rough right now, so sometimes you need a good visual dad joke to get you back on track. And sometimes those jokes are so good and so perfect, you can't believe you haven't seen them before. Enter, the Ghost meets Ghostbusters viral mashup photo that is taking the internet by storm.
Remember the 1990 hit Ghost in which Patrick Swayze played a hunky ghost who haunted Demi Moore and Whoopi Goldberg was also there? Yes, it's a movie that came out a full year after Ghostbusters II in 1989 and is probably the better of those two films with the word "ghost" in the title. That said, if you grew up around this time, you probably saw Ghostbusters II in theaters (I did!) but did not see Ghost because it was clearly a grown-up movie about pottery and massage.
That said, I think we can all agree that you really did wonder what would happen if the Ghostbusters appeared in other movies featuring ghosts. And so, thirty years later, there's a great, and simple photoshop that will maybe spit your coffee out.
Ghost is streaming on Showtime now, or $3.99 to rent.Here's where to watch all the Ghostbusters online.And, here's our brand-new Unexpected Parenting Lessons From Ghostbusters
This article was originally published on