This 'Avengers: Endgame' Theory Say Ant-Man Has a Secret Backstory
This could actually fix everything.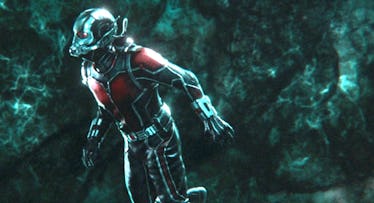 Marvel/Disney
Sometimes the best way to figure out the huge plot twists of upcoming superhero movies is to look for plot holes in older ones. In other words, some Marvel fans think that the key to Ant-Man saving the day in Avengers: Endgame is connected to a wonky plothole in the first Ant-Man film. Here's the scoop.
Possible spoilers for Avengers: Endgame ahead.
Over the weekend, a new theory emerged on Reddit that suggests Ant-Man — Scott Lang — will time-travel all the way back to 1993 where he would meet a younger version of Hank Pym. The idea here is that in the first Ant-Man movie Hank is pretty trusting with Scott using his super suit, even though Scott is a criminal. Why? The idea here is there's a time paradox involved and that in 2015, the older Hank has already met Scott via time travel. But, the act of Scott traveling back in time to the '90s is in our future. Supposedly, after Scott is stranded in the Quantum Realm at the end of Ant-Man and the Wasp, he could time travel…anywhere?
How Scott would then get back to 2019 isn't clear, but the theory suggests that the '90s time travel is why Captain America thinks the security camera footage of Scott is old. In the first Endgame trailer, he says "Is an old message?" to which Black Widow responds, "It's the front door." So, maybe Cap thinks there's an old message involved because they already know that Scott is time traveling at this point in the movie.
Then again, if An-Man is time traveling to the '90s, does that mean he'll meet Captain Marvel?
Captain Marvel is out everywhere on March 8.
Avengers: Endgame is out on April 26.
This article was originally published on