It Was Witchful Thinking To Hope 'The Witches' Reboot Was Perfect
But, don't cancel HBO Max!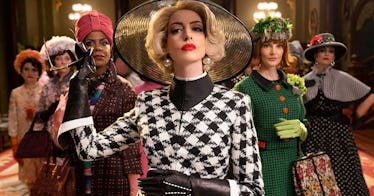 Warner Bros. Pictures
The Witches, streaming now on HBO Max, assembles director Robert Zemeckis, writers Kenya Barris and Guillermo del Toro (along with Zemeckis), producer Alfonso Cuaron, and a cast that includes Anne Hathaway, Octavia Spencer, Stanley Tucci, and the voice of Chris Rock. Together, they try to conjure Roald Dahl's creepy 1983 kids' novel The Witches into a witch's brew of nail-biter, fright-fest, heart-warmer, and comedy. So much talent, so much potential, such great source material… but the movie itself just doesn't have the magic. There is some zing here, but unless your older kid has very specific tastes, the movie might not be for everyone. It is, however, pretty scary.
Witches, we learn, are bad. Really bad. As in pure evil without a stitch of compassion, who prey on the poor. And they are demons in human form that want nothing more than to turn children around the world into mice, and squash them. The story unfolds in the late 1960s and centers on an unnamed 8-year-old boy (Jahzir Bruno) who moves in with his Grandma (Octavia Spencer) after his parents perish in a car accident that he survived. Grandma is a music-loving, affectionate Alabaman who pulls the boy out of his funk. But then a witch shows up in town, triggering a hasty retreat to the supposed safety of a lush, ritzy hotel. Among the other guests at the hotel are a group of ladies who comprise the International Society for the Prevention of Cruelty to Children. Turns out they're actually a coven of witches, led by the Grand High Witch (Anne Hathaway), who proudly shows off a purple potion that will do the aforementioned job of transforming little boys and girls into rodents. From there, and it's not giving too much away to reveal this, our hero boy becomes a mouse, and it's up to him, Grandma, and two other mice – a chubby boy and a plucky girl – to thwart the Grand High Witch's nefarious plot.Nicolas Roeg tackled the same story, with far better results, in his 1990 film that starred Angelica Huston as the Grand High Witch. That version relied mostly on prosthetics – and the talents of Jim Henson and his team — to bring its witches and mice to life. Zemeckis, in his take, just can't quite create a cohesive whole. Rock is a funny man and he can do drama, too, as witnessed by his current run on Fargo, but his narration here, especially as it opens the film, is too much, too loud. The first half-hour drags: intro, kill mom and dad, kid-in-funk, meet Grandma, Grandma nudges boy out of funk, preview how bad witches can be, head out to the hotel. Either make all that more interesting or reduce it to a 10-minute montage.Spencer is wonderful, and she and Bruno share some understated chemistry. Hathaway chews the scenery and has a grand time doing so, but the performance is hampered by an over-the-top Eastern European accent that renders much of her dialogue incomprehensible and visual effects that come across more animated than photorealistic. Kristin Chenoweth brings energy as the voice of Daisy, the boy's fellow mouse. And, in an utter waste of a Devil Wears Prada reunion, Stanley Tucci does pretty much nothing as the hotel's cranky, put-upon manager, Mr. Stringer. Beyond the performances, the film looks and sounds great, bolstered by gorgeous cinematography, fanciful costumes, and impressive sets, as well as a few classic songs, including The Four Tops' "Reach Out (I'll Be There)."
For the parents out there, be aware that The Witches might terrify younger children, arguably those 7-years-old and younger. The hero of the film is eight, and kids that age and older might gasp here and there, but otherwise should be fine. The story also addresses several potentially touchy subjects, including death, loneliness, and body-shaming. And, importantly, Zemeckis – while layering in a bit more heart and emotion throughout the story than Dahl offered — sticks for the most part with how the author ended his book, and that will surely lead to some challenging conversations. Zemeckis also deserves credit for casting Black actors as the boy and his grandma, and then barely commenting on it. Their characters just happen to be Black.
It's ultimately for the best that The Witches ended up on HBO Max rather than run in theaters as intended, and that's because it's easier to appreciate its mild charms and chills at home for what feels like free on a TV or computer or mobile device than if you'd paid $15 for the privilege of seeing this slightly less-than-bewitching movie at the local multiplex. So, in that sense, if you don't love the new The Witches reboot, it's also not like you should cancel HBO Max. Although we at Fatherly were initially a little lukewarm on the service, HBO Max's deep well of older movies feels very much worth our time and money. And, again, it was much more fun to watch The Witches reboot this way, rather than having to be only slightly freaked-out by it in the theater.
The Witches is streaming on HBO Max here.
This article was originally published on