The Very Best 'Furious' Family Moments in 'F9'
You know what these movies are about. FAMILY.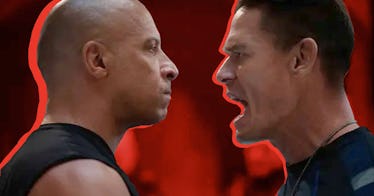 Universal Pictures
Say what you will about the Fast & Furious franchise – that it's silly and over-the-top and just pretty people dodging increasingly larger explosions in faster-than-ever cars across assorted exotic locations – it's also about family. And that's not hyperbole. The cast has meshed over the course of the franchise, as have the characters, and that ease and chemistry and camaraderie all come across better than ever in the latest installment, F9.
There's a plot, convoluted as always, with the psycho high-tech terrorist Cipher (Charlize Theron) causing trouble again for Dom (Vin Diesel) and his crew, which includes Letty (Michelle Rodriguez), Roman (Tyrese Gibson), Tej (Ludacris), Mia (Jordana Brewster) and Ramsey (Nathalie Emmanuel). Meanwhile, the plane belonging to Mr. Nobody (Kurt Russell), who has captured Cipher, goes missing, and Dom figures out who's behind it: his long-estranged brother, Jakob (John Cena), who can drive, fight and glare just as well as his sibling. Also on hand: the supposedly dead Han (Sung Kang), Dom's young son, Brian (Isaac and Immanuel Holdane), as well as Magdalene Shaw (Helen Mirren), and Leysa (Cardi B), friends of Dom's who pop up at separate pivotal moments.
Here are the four best Fast "family" moments in F9. Major spoilers ahead.
4. Everything with Dom and Jakob
For starters, there's the Dom-Jakob relationship. There's no love lost, which means there's love to be found. As young men, Jakob played a role in their father's death, something that Dom only realized a couple of years later. Throughout the movie, including at the end, flashbacks featuring younger actors as Dom and Jakob expound on their turbulent past and hint at a glimmer of hope for reconciliation. The signature line between the younger characters: "It's going to be OK… because we're family." And between the older characters: "Dad wasn't perfect, but he loved us all the same."
3. The Little Brian Factor
Dom and Letty, who are married, aspire to a quiet life raising Brian Marcos, who's about four years old and referred to as Little Brian. He is Dom's son with the late Elena Neves (Elsa Pataky). When the trouble starts, Dom and Letty have to decide if they can or should enter the fray. Of course, there's no movie if they sit this one out, but it's a debate played out on screen. We also get – between explosions and car chases — some nice moments between Letty and Little Brian and Dom and Little Brian. In a sweet scene, Dom and Little Brian visit the now-abandoned racetrack where Dom's dad died, and Dom explains, "This is the last place I saw your grandfather," and "Everything I needed to know about life, I learned on this track."
2. The Minions Joke
The Minions are family favorites, deservedly so, and they're also, like the F&F franchise, part of the NBC/Universal entertainment machine. In a funny bit of corporate synergy, Roman and Tej wind up in a car… in space (yes, in space), in silly gear, prompting someone aboard a space station to ask, "Why do they look like Minions?" We laughed. We don't feel particularly good about it, but we laughed.
1. Save a Seat for Brian
At the very end of F9, there's an outdoor party/picnic in which everyone reunites. That provides closure for the stories, the characters, and their relationships, and the words "For now, let's enjoy the moment" are uttered. Dom surveys the people around him at the table. "Hold on, there's still an empty chair," he intones. Mia smiles and says, "He's on the way." The loud purring of an approaching car can be heard. Then it happens: a blue Nissan Skyline GT-R R34 pulls into the driveway. So, even though Paul Walker tragically died in 2013, his character, Brian O'Conner, lives on in the F&F universe. That's not news; he's been mentioned in the past, written out as retired and off the grid. But F9 sets the stage for Brian to return to the F&F family, perhaps for a minute (using old footage?) or maybe more substantially (with CGI and appearances by Walker's brothers, Cody and Caleb, which was how director James Wan finished Furious 7 after Walker passed away before completing production). Whatever the future holds, the sight of Brian's Skyline will bring a smile and likely some tears, too, for longtime fans.
F9 is in theaters now. (And only theaters!)
This article was originally published on