The 'Rugrats' Cast Pick Their Favorite Classic Cartoons — From 'Wacky Races' to 'Ducktales'
The Rugrats cast reminded us of their favorite old-school 'toons.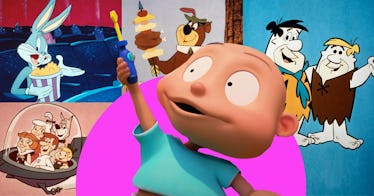 GETTY/Paramount+
Chuckie, Tommy, and the rest of the babies are back – and so are their parents! As if we needed further proof that everything old is new again, the Rugrats – who made their debut in 1991 on Nickelodeon — are getting the reboot treatment. And like so many reboots, Rugrats will seek that elusive alchemy of blending the past and the present. That's to say that the babies are still babies, many of the familiar voice actors are on board, and the stories will once again tap such sweet longtime Rugrats themes as forging friendships, stimulating the imagination, embarking on adventures, and fostering teamwork, but that the animation is state-of-the-art 3D CGI, new actors voice all of the adult characters, and those characters must contend with millennial parenting, current technology, and very modern distractions.
In the works since 2018, will premiere May 27 on Paramount+, with an hour-long first episode, "Second Time Around." Episodes will also air later this summer on Nickelodeon.
Fatherly recently chatted with much of the voice cast, including E.G. Daily, Cheryl Chase, Cree Summer, Kath Soucie, and Nancy Cartwright (who is actually even more famous as the voice of Bart Simpson since day one of The Simpsons), who reprise their respective roles as Tommy Pickles, Angelica Pickles, Susie Carmichael, Phil, and Lil DeVille, and Chuckie Finster.
We also spoke to newcomers Ashley Rae Spillers (so great as the uber-shy secretary on Vice Principals), Omar Miller (Sol in 8 Mile and Charles Greane on Ballers), Timothy Simons (Jonah Ryan on Veep), and Tommy Dewey (best known as Alex on Casual), who do the talking for Didi Pickles, Randy Carmichael, Drew Pickles and Stu Pickles.
We all love Rugrats and we're thrilled it's coming back but other than the OG rats, let's talk about other beloved old-school cartoons. We asked the entire cast of Rugrats which classic cartoon was their favorite. Here's what they told us, from Looney Tunes to Ducktales, to a few cartoons you may have forgotten about.
Growing up, what were the cartoon shows that YOU loved? Cree Summer: I was a huge fan of Scatman Crothers and Hong Kong Phooey. I loved Captain Caveman. I had two crushes in my life. My first crush was Underdog. My second crush was Plastic Man. I'll save that for therapy! Stream Captain Caveman on Tubi for free.Kath Soucie: I am that little nerd that didn't watch cartoons. I watched all the old movies that my Mom and Dad loved when they were dating. So, I loved Katharine Hepburn and Audrey Hepburn, and Ingrid Bergman. I loved those old movies. That's what I loved to watch. Stream Philadelphia Story on HBO Max here.Nancy Cartwright: For my generation, it was The Flintstones. It was The Jetsons. It was Wait Till Your Father Gets Home. It was Fractured Fairy Tales. It was all of the Warner Bros. movies with Sylvester. It was Yogi Bear and all the commercials that went with it. Stream Fractured Fairy Tales on watchcartoon.com
Cree Summer: Wacky Races! I loved Wacky Races! You can purchase Wacky Races on Amazon Prime.
Timothy Simons: I watched a whole bunch of different ones, everything from classic Disney to the newer Chip 'n Dale (from) Disney. And then I got into DuckTales and all of that stuff. I was kind of all over the place. But I watched a little bit of Rugrats. Not a lot, but a little bit. And then Transformers and all of that stuff as well. The classic '80s Transformers is streaming for free on Tubi TV.Omar Miller: I was a cartoon-ologist. I watched everything when I was a kid. I was big on G.I. Joe. I was crazy for Looney Tunes.. You could count me in for DuckTales. You name it, I probably watched it. The only one that was really popular that I didn't watch, that I didn't care for, was He-Man. But, even stuff like The Pirates of the Dark Water. There were so many. I was a cartoon kid. You couldn't get me off the TV. I loved cartoons. The newer DuckTales is streaming for free on Disney+.E.G. Daily: I was a Flintstones person. I did see some Road Runners, even though they were a little bit crazy. Bugs Bunny. And I loved some of the old (animated) feature films, like Lady and the Tramp. The classic Flintstones is streaming on HBO Max.Cheryl Chase: I loved Bug Bunny. And… The Flintstones. All the classic Looney Tunes are streaming on HBO Max.Tommy Dewey: I watched a lot. I was a big Scooby-Doo fan. For some reason, in my house, we also watched a lot of old-school cartoons. We watched old-school Mickey Mouse, I remember. I don't know if my mom had them on tape or what, but we watched black-and-white Mickey Mouse. It was a part of my youth. Most of the classic Scooby-Doo streams for free. Ashley Rae Spillers: I wasn't a huge cartoon kid, but I watched Rugrats, which was so awesome. I liked Doug. I tuned in for Doug. I would also tune in for Ren & Stimpy. I remember one year I gave Ren & Stimpy Valentine's Day cards, because they were kind of gross. Those were a few that I watched. Ren & Stimpy is streaming on Paramount+.Rugrats will kick off May 27 on Paramount+.
This article was originally published on