The Next Stan Lee Marvel Cameo Isn't in a Marvel Movie
The Disney princesses have some company in 'Wreck it Ralph 2'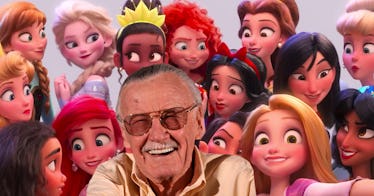 Credit: Flickr/GageSkidmore; Disney
Next week, the delightful and highly-anticipated sequel to 2012's Wreck-It Ralph — Ralph Breaks the Internet — hits theaters right before Thanksgiving. And if you love Disney movies, you probably already know that the meta-fictional narrative of the movie will find Vanellope (Sarah Silverman) hanging out with every single Disney princess at some point. But, the cameos from the Disney princesses will easily be eclipsed by one other secret cameo: Stan Lee.
(Mild spoilers for Ralph Breaks the Internet)
That's right, Stan Lee has a cameo in Ralph Breaks the Internet, and it was (obviously) completely in the can way before his death this week. In the movie, Vanellope encounters the user avatars of all sorts of people, including one who is very obviously Stan Lee. In the brief scene, the cartoon Stan nearly knocks her over!
This isn't some kind of weird live-action Stan Lee either, but instead, an animated version of the late Marvel editor, which, in terms of all of Lee's cameos in Marvel movies, is a first. He's in the movie, and yet, he's not in the movie. Which, considering the timing of the release of Ralph Breaks the Internet, feels oddly prescient and maybe a little eerie. Is the ghost of Stan Lee instantly haunting us? Maybe.
If you're wondering why Stan Lee has a cameo in a movie that isn't a Marvel film, there are two answers. First, Disney controls Marvel Studios, so the legality of it is pretty clear right there. (Groot from Marvel's Guardians of the Galaxy appears in the movie, too.) But, the other reason Stan Lee shows up in Ralph Break the Internet is probably more connected to the self-awareness of the film itself.
Because Ralph Breaks the Internet is overtly commenting on the internet as it relates to contemporary pop culture, it's specifically mocking a lot of the movie tropes we've all become familiar with in the past 20 years. And anyway you look at it, Stan Lee's cameos are part of a big blockbuster movie tradition, whether he's alive or not!
Ralph Breaks the Internet is out in wide release in movie theaters everywhere on November 21.
This article was originally published on