The Next Jeopardy! Host Should Be Ken Jennings
This feels like the right move.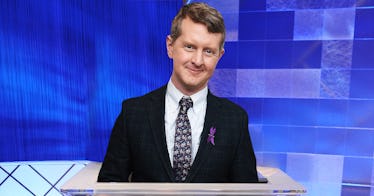 Getty
Life goes on with or without us, and while countless millions of fans can't imagine Jeopardy! without its iconic host, Alex Trebek, the show must — and will — go on with someone new assuming Trebek's role. No less than Trebek himself publicly mentioned L.A. Kings announcer Alex Faust and CNN legal analyst Laura Coates as possible replacements, but the betting money seems to be on Ken Jennings, the all-time Jeopardy! champ. Jennings, who was recently introduced as a consulting producer and brand ambassador and has been popping up this season in video segments, makes great sense and is Fatherly's top choice.
Jennings first competed on Jeopardy! in 2004. Across more than 75 appearances, most recently for Jeopardy! The Greatest of All Time tournament, the software engineer from Utah has earned more than $5.2 million. He also holds the distinction of having won the most consecutive games: a whopping 74 in a row. Jennings has become a fairly prolific author, penning Brainiac: Adventures in the Curious, Competitive, Compulsive World of Trivia Buffs; Ken Jennings' Trivia Almanac: 8,888 Questions in 365 Days; and Maphead: Charting the Wide, Weird World of Geography Wonks, as well as a children's series of books called Junior Genius Guides. He and his wife are the parents of a son and daughter, both teens.
Though far from as synonymous with Jeopardy! as Trebek, Jennings has made his mark on the show. He's spent 16-plus years in its orbit, helped boost the show's ratings, and loosened up considerably since viewers first met him on June 2, 2004. Out of respect for Trebek, and considering that Trebek shot enough episodes to run through Christmas, Jeopardy! has held off announcing a replacement for now. Jennings is surely under consideration and likely a front-runner. He hasn't addressed the possibility directly, but in comments tweeted just after Trebek's passing, Jennings acknowledged the longtime host's legacy.
"Alex wasn't just the best ever at what he did," Jennings wrote. "He was also a lovely and deeply decent man, and I'm grateful for every minute I got to spend with him. Thinking today about his family and his Jeopardy! family — which, in a way, included millions of us."
This article was originally published on