Parents Besieged By Mess Should Watch 'The Home Edit' on Netflix
At the very least, you can be transported to a fantasy world where everything is clean and organized.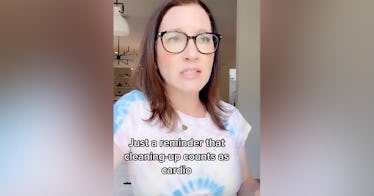 For most people, the two women behind The Home Edit, the home organizational company that primarily operates out of Nashville, Tennessee, but boasts millions of Instagram followers, celebrity clients, and hordes of devoted followers, are not a new discovery. Indeed, Clea Shearer and Joanna Teplin, the two organizational powerhouses behind the show, have long been the subject of a nearly cult-like following of their personalities (they're really funny) and their recognizable work. Look on Instagram and you can see their footprint in organization: the kitchen pantry, to the bedroom, to the garage, to, of course, their rainbow bookcases all have a specific style that are Teplin and Shearer all the way. Their Instagram, their book, their products, and their new show, Get Organized with The Home Edit promise a new way of living, radically free of mess.
For millions of Netflix viewers, many of whom are parents, when their 8-episode television show dropped on the streaming platform, it was their first introduction to the organizational gurus and their organizing ethos. For parents who have been stuck in a holding pattern, cleaning up after their children for every minute of the day since mid-March, The Home Edit on Netflix feels like a far-away fantasy. But, the show promises, it really could be your life. Add that to the fact that Shearer and Teplin are both parents, and manage to keep their own homes organized under their systems, and it starts to feel, well… real.
Every episode in the show is split into two categories of clients: Shearer, Teplin, and their employees organize a celebrity's home, and then a normal person's home. Kitchens overloaded with cluttered plastic-wear, numerous "junk" drawers, and unseen countertops have every item taken out, thrown away or kept, and re-organized in their line of Container Store organizational products and made anew. Children's bedrooms are given "systems," closets become safe havens, garages, places where things go to be stored and not to be forgotten forever.
For many parents, who have been stuck at home since mid-March and have been inundated with the constant task of cleaning up after kids (like Shearer, see above) who literally never get to leave the house for a single second, the show is a welcome reprieve from Legos-to-the-foot and a pantry that is overstuffed and makes no organizational sense. The show goes through the basics of their organizing methods, hawks their book, and promises to help you create organizational systems that are not only aesthetically pleasing but also sustainable.
Or, so the magical thinking goes. Anyone with kids knows how hard it is to have them put the thing back where it came from, even if it's in a beautiful, clear, folded, and neat, labeled box. But even if your own house is on fire, and for some reason, the milk is in the pantry and the cereal is in the fridge and you've fished out yet another Fingerling toy from the toilet, you can at least watch the show, feel soothed, and play pretend. Or, you can get inspired, buy the book, and try to spend the rest of your quarantining radically changing your life. Whichever feels easier to you.
Watch Get Organized With the Home Edit on Netflix here.