The Force Isn't With the New 'Star Wars' Cartoon, But That's the Point
'Star Wars: Resistance' voice actors Bobby Moynihan and Donald Faison reveal a galaxy far away that actually feels very close.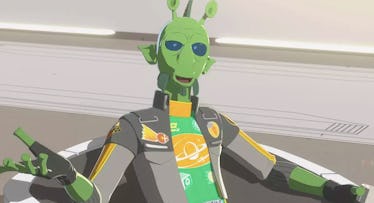 Donald Faison is Hype in 'Star Wars: Resistance' (Disney)
Bobby Moynihan has an important message for Star Wars fans of all ages: no one will use the Force to solve problems in the new animated TV series Star Wars: Resistance. "We don't talk about the Force on our show. Our show is not that," the actor explains. It's an interesting declaration, but an important one because if you're curious about the vibe of the newest animated Star Wars show, it all comes down to social class. Moynihan's co-star, Donald Faison, sums it up like this: "This show is about the other guy, the other part of the galaxy that you don't necessarily get to hear about. These are the people that actually populate the galaxy."
So, is Resistance the working-class, blue-collar version of Star Wars? According to Faison and Moynihan, the answer is a big yes. Both voice actors tell Fatherly that what sets this iteration of the faraway galaxy apart is the fact that the characters aren't super "extraordinary," but instead, more like regular people. And while General Leia does have a brief cameo in the first episode, and Oscar Isaac is onboard as Poe Dameron, the action and the characters in Resistance are decidedly adjacent to the Star Wars universe most are familiar with.
Which, in a sense, is what makes the show great for kids, insofar as there are no "chosen ones" in this narrative. The series' primary protagonist is a young, well-meaning pilot named Kaz, and unlike other animated Star Wars shows like Rebels or The Clone Wars, Kaz really is the main character. Moynihan thinks this is significant. "There are some pretty huge pre-existing characters in other Star Wars cartoons, like, Anakin, you know what I mean? Kaz is the anchor of this show."
Famous for his various roles on Saturday Night Live, Moynihan — a huge Star Wars fan — is realizing his childhood dream by joining the galaxy far, far away as the voice of a new character named Orka, a pig-like creature who helps hotshot racing pilots soup-up their starfighters, often by selling them used parts. "He sounds like a little Brooklyn guy and that's him, you know? He's a mechanic, he's a parts guy, he's the guy you go to when you need something under the table."
Donald Faison, on the other hand, has a slightly more glamours role. He's playing Hype Fazon, a hotshot pilot, who is also the same alien species as Greedo from the original Star Wars: a Rodian. But Moynihan says he thinks Faison's character has a Han Solo attitude.
"Nobody really knows what a Rodian sounds like," Faison says. "Greedo, you know, that's really the only example of a Rodian. I liked that he had a high voice, but I didn't prepare much to play the character."
Moynihan also admits he didn't prepare much to play Orka, and that's because, as he explains, just being a lifelong Star Wars fans is kind of enough in terms of acting preparation. But, that doesn't mean both men don't feel the tremendous responsibility of being in Star Wars. Because Moynihan and Faison are both fathers, they're keenly aware that the galaxy far, far away doesn't really belong to them anymore, but instead, to a whole new generation of kids, including their own.
"We all grew up on it and we all, and we're all interested in it because it was specifically targeted towards us when we were kids," Faison explains. "So, our show is like that, the same demographic. Kids. And they'll grow up with it as well."
-The very first episode of Star Wars: Resistance airs on Sunday, October 7 on the Disney Channel.-