The Best Peppa Pig Games to Play Online and IRL
Your Peppa Pig fans at home will be thrilled!
by Alicia Kort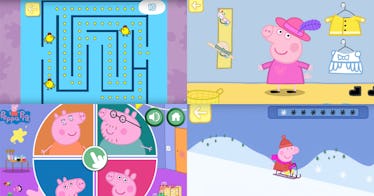 Nick Jr.
Peppa Pig is adored by young children everywhere, and for good reason too. She is admirably sassy beyond her years. Although she talks to her parents in a way that you pray your child won't ever pick up on and inspires them to stomp in the nearest puddle whether or not they're wearing rain boots, she does capture the spirit of toddlers and preschoolers everywhere, which is perhaps why they're so drawn to her. Her adventures teach kids the importance of kindness, gratefulness, as well as, social skills that might come in handy when making new friends. Because your child probably can't get enough of her and her brother George, we've rounded up a list of Peppa Pig games, so your child can interact with Peppa outside of her show.
Your child can immerse themselves in the world of Peppa Pig through your phone or tablet. The World of Peppa Pig app updates every other week with new games, activities and videos. With this app, your child can practice their letters, watch video compilations, play matching games and color. The app is completely free for seven days and then you have to purchase a subscription to it.
On the Nick Jr. website, Peppa Pig has her own section of online games meant for young children. There's a variety to choose from, but the Pattern Party is a relatively simple game that will keep your child's interest. It's basically a Peppa-themed Simon memory game. One of the four squares featuring Daddy Pig, Mummy Pig, Peppa and George will change to show one of the Pig family members celebrating with confetti. Your child will click on that square and continue on to memorize the pattern, so they can build and test their memory skills.
This fun game is just about as silly as Peppa herself. You take your turn by spinning Peppa around, and she giggles and snorts maniacally while giving you instructions. It's basically "Go Fish!" but much more intense. This Peppa Pig game might get a little competitive even among the adults of the family. Peppa is an agent of chaos in this game and will have you stealing cards without remorse.
This Peppa Pig game appapp might only apply to two seasons of the year, but it's well worth the download. Your child can learn about seasonal fruits and vegetables, build a snowman (minus the song from Frozen, but your kid still might be inspired to sing it) and collect tons of Peppa stickers.
If you've watched Peppa, you're probably familiar with Happy Mrs. Chicken, which happens to be the Pig family's favorite game. The people behind Peppa Pig got a little meta and made their own Happy Mrs. Chicken app, which features five different games. These games aren't math-based like Peppa Pig's Happy Mrs. Chicken seems to be, but there are puzzles and mazes. There's also a muddy puddle game, so perhaps your children can get their puddle-jumping in digitally rather than IRL.
This article was originally published on