Self-Published Children's Book Authors Fight the Weird Fight
A prophet, a hitman, and a balloonist walk into a convention center....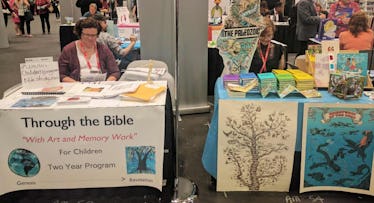 Trade shows rival Dante's Inferno in the moral specificity of their geography. At BookExpo, the massive trade-oriented book fair taking place at the even more massive Javits Center in New York City this week, the big players have spacious booths close to the main stage. Chronicle, Penguin Random House, Houghton Mifflin, and Workman have well-lit booths with chirpy employees and lots of giveaways. The tweedy academic publishers like Oxford University Press and The University of Chicago Press shunted south toward the Librarian's Lounge, do not. There are great books to be found in all of these booths but the best stories are found just north of the author market stage, where self-published authors sit behind four-foot-wide tables that cost them $400 and on which are stacked often idiosyncratic children's books.
BookExpo, my friends tell me, is a mere shadow of its former shelf. Booths are smaller, publishers wary and the parties less fun. This decline is the result of a particularly difficult era in traditional publishing. One bright spot, however, is children's literature ,which, like children, is growing. According to the American Booksellers Association the children's book market has grown 52 percent since 2004 as the overall book market grew 33 percent. Another growing subsect of the industry is the long maligned backwater of self-published authors. The research firm Bowker, the number of self-published titles has grown more than 375% since 2010, climbing north of 700,000 titles.
These two trends collide and coalesce in the form of characters worthy of Dr. Seuss or Edward Gorey sitting in a convention center, defying convention altogether.
Take DeiAmor Verus, a large man in a red jacket and two tone wingtips whose new book is entitled, "Talk To God." "It's not about God," he whispers to me, thrusting the book into my hand. I turn to a random page. Chapter 22: "We are children, no, worse: we are child bullies in a world that requires unconditional love. Fuck." He's already signed the book, "All my love. DeiAmor Verus." Across the aisle stands Larry Mazza, a handsome man with trim gray hair and a blazer. His book, The Life: A True Story About A Brooklyn Boy Seduced Into The Dark World Of The Mafia, is about to be made into a movie–he hopes. But how true is it? "I wasn't actually a hit man," he admits, "but I was in the family."
Then there's Alese Pechter, smiling behind two paper hot air balloons on a balloon tablecloth. Her book, Skyward Bound, is about balloons. She wrote it with her now-deceased husband Morton, scion of a well-known rye-making family. Next to her is AC Moyer, a cheery former model whose debut novel is called Size Zero. "Filleted and stitched into a gruesome skin coat," a sign next to Ms. Moyer reads, "a corpse worn by an anorexic model saunters down fashion's biggest stage." It's not a sentence, but it is a striking image.
But the most striking image on display was not a poster, but two authors seated next to each other in diametric opposition. Near the end of the aisle and an acre of empty space, Casey Fennessy, whose mother Janet and father Daniel run Turkey's Roost Publishing in Indiana, sat in front of a display reading, "Through the Bible…for Children." Beneath that there were two images. One, a globe, represented Genesis. It was connected, by an arrow, to a drawing of a tree under which was written, "Revelation." Casey's mother, Janet, is the author and illustrator of Bible tales for children. "We're popular with home schoolers," Casey explained, showing off a coloring book her mother made. "Put on the armor, Children of God," it said, a verse from Ephesians 6:12-17. Underneath the verse, a knight waited to be colored in.
Not a foot away, at her own table, a young Brooklyn-based illustrator named Estrella Vega proudly displayed a poster entitled Tree of Life. Ms. Vega, a French-born Brooklynite, specializes in scientifically accurate children's books. Her oeuvre includes five book series detailing the Paleozic era and a two-part flip book illustrating evolution from a single-cell organism to a bird.
As the day wore on, Ms Fennessy and Ms. Vega sat within spitting distance, exchanging quick smiles and pleasantries. From her table, Ms. Fennessy expressed admiration for Ms. Vega's work. "I actually have a degree in geology," said Ms. Fennessy, "I love fossils." When pressed with how Ms. Vega's work squares with her strict belief in creationism, Ms. Fennessy just smiled politely and said, "Very easily." Ms. Vega, however, hadn't yet had a chance to visit with her neighbor, close as she was. "It's only me at the show," she said, "so I'm stuck here."
Someone in the booth department had a wicked sense of humor.
This article was originally published on