The Best Batman Movies, Games and Books For Your Kid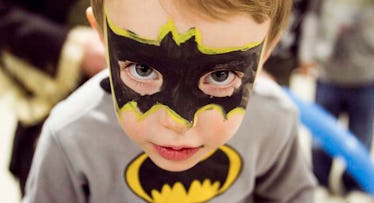 <a href="https://www.flickr.com/photos/caseycanada/4370678025/" target="_blank">flickr / Casey Lessard </a>
Holy Bat-binge, Batman! Just in case your kid isn't already head-over-cape on the crime fighter, below is a 101-crash course on the friendliest kid content on the Dark Knight to make your little Robin love Batman on the first try!
Best Book: Bedtime For Batman
Batman is not the best sleep role model. He's up all night, driving his fancy car, punching villains and playing with techy toys. But when you compare his after-hours routine to a kids' bedtime schedule, there's a book worth of parallels. Bedtime For Batman shows preschoolers they're just like Batman every single night by putting on their special night uniform (PJs), cleaning up the daily grime (brushing teeth) and locking away whatever they can (clean up).
Ages: 4-7
Best Comic: Li'l Gotham
There are a lot of Batman comic books, past and present, that are either great or not very great for kids. Li'l Gotham is geared specifically towards all audiences who are Bat-obsessed. Thanks to the beautiful watercolors of artist Dustin Nguyen, Gotham is a unique spin on Batman, and his crime-fighting pals protecting Gotham City. The twist: everyone just happens to be little. Like Ewok little. It's the most adorable version of Batman ever in a finite series that's only 2 volumes deep, because even the length is little.
Ages: 7-10
Best Live Action Movie: Batman (1966)
Before you get your Bat-briefs in a bunch, yes, this film (and original TV series) is campy. It's definitely no The Dark Knight, but every Bat-live action movie after the 1966 film are rated PG-13. Adam West may dance and punch a rubber shark off his leg, but chances are your kid will think this over-the-top dreck is funny. If you can't stomach the cartoony film, then maybe try its cartoony remake. Last year DC gathered West, Burt Ward and Julie Newmar to reprise their roles for a fully animated homage.
Common Sense's Take: Common Sense Media says Batman is "the campy and silly Batman and not the noir superhero-with-a-dark-side portrayed in recent decades." Maybe that's just what the kids need. It's either West or George Clooney talking about bat-credit cards.
Ages: 9+
Batman (1966) is available to buy and stream on Amazon.
Best Game: Lego Dimensions
Various Lego Batman titles have been well received, but Dimensions is the latest in next level Lego awesome. The game follows super villain, Lord Vortech who…wait for it, attempts to take control every possible universe. That means every Lego hero from Batman, Superman, Marty McFly, Frodo to even Scooby Doo have to team up and save the Legoverse. It's like every toy super war you've done as a kid, but better.
Common Sense's Take: Common Sense Media says, "the creativity, versatility, and depth of this game taps into the imagination of everyone young and old." But they warn how your kids will think they're as rich as Bruce Wayne thanks to its expansive downloadable content. "To unlock all the side missions and collectibles, it's going to take a fairly sizable investment."
Ages: 10+
Best Animated Series: Justice League Action
The holy trinity of DC heroes, Batman, Superman and Wonder Woman team up with a seemingly never-ending, expanding team of more superheroes to save the world. The brand new series just started in late 2016, and each episode is just 10 minutes, perfect for your easily distracted child. Parents, listen out for Kevin Conroy and Mark Hamill to voice the caped crusader and The Joker once again.
The Critic's Take: AV Club says "Justice League Action is intended for a younger audience, but the childish elements make the show refreshing when so many of Warner Bros.' other DC projects try to appeal to adults by giving the characters and their worlds dour makeovers." Batman doesn't always have to be gritty and dark. That's probably why Lego Batman is already tracking to be the box office white knight next week.
Justice League Action airs on Cartoon Network
This article was originally published on