The Best 2021 Streaming Holiday Special Is a Chanukah-Christmas Crossover
This brand new holiday 'Rugrat's special is brilliant.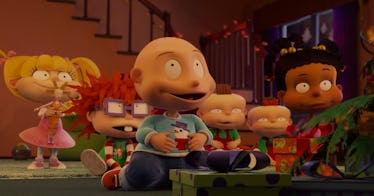 Paramount+
Finally! After years and years, there's a new holiday special from the Rugrats. As of now, Paramount+ has unveiled an all-new special Rugrats holiday episode, "Traditions." In it, impressionable young Tommy Pickles' first Chanukah falls on Christmas Eve, and the Pickles family must juggle their family traditions to make sure that Chanukah and Christmas receive the attention they deserve, while also celebrating Las Posadas with Betty and her family. Adult fans who enjoy celebrity voiceover contributions should keep their ears open for guest star appearances by Swoosie Kurtz as Minka, Henry Winkler as Boris, Raini Rodriguez as Gabi, and Tata Vega as Tia Esperanza
"Traditions" carries on the, well, tradition of the original show embracing holidays, families, and their accompanying customs, presenting family not just as a biological entity, but as something we choose and cultivate for ourselves. Previous holiday-themed episodes include, "A Rugrats Kwanzaa," "Rugrats Chanukah," "The Turkey Who Came to Dinner," "Passover," "The Werewoof Hunter," and "The Santa Experience." All of those earlier episodes are also available on Paramount+.The original Rugrats debuted in 1991 and ran for nine seasons over the course of 13 years on Nickelodeon. Paramount+ debuted the rebooted Rugrats on May 27, 2021. The streaming service's CG-animated version features old characters and fresh ones. Returnees include E.G. Daily as Tommy, Cheryl Chase as Angelica Pickles, Nancy Cartwright as Chuckie Finster, Cree Summer as Susie Carmichael, and Kath Soucie as both Lil and Phil DeVille. Among the newcomers are Michael McKean as Grandpa Lou Pickles; Anna Chlumsky and Timothy Simons as Angelica's parents, Charlotte and Drew Pickles; Ashley Rae Spillers and Tommy Dewey as Tommy's parents, Didi and Stu Pickles; Natalie Morales as Phil and Lil's mom, Betty DeVille; Tony Hale as Chuckie's dad, Chas Finster; and Nicole Byer and Omar Miller as Susie's parents, Lucy and Randy Carmichael.Rugrats "Traditions" is streaming on Paramount+.