Can't See 'The Batman' In Theaters? Don't Worry, It's Coming to HBO Max Very Soon
There's a good chance you'll get to see Robert Pattinson's Bats at home much sooner than you think.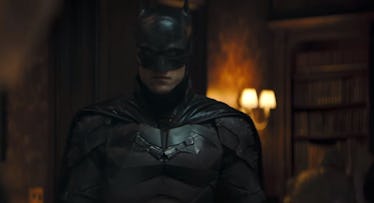 Credit: Warner Bros
It's a forgone conclusion that parents are often too busy to go to the movie theater. This problem got even dicier after COVID and is especially tough if you're thinking about devoting several hours of your free time to a movie that isn't even kid-friendly. And the new Robert Pattinson Batman movie is very much not kid-friendly. So, this leads to a fairly obvious question, when does The Batman hit HBO Max? The answer is: Maybe sooner than you'd expect?
When will The Batman stream on HBO Max?
Although Warner Bros hasn't confirmed a specific date that The Batman will HBO Max, there is one specific rumor that suggests that date is April 19. This would mean, if you have HBO Max, The Batman could show up as an "on-demand" movie in about a month.
This may sound fast, but actually, post-COVID, 45 days in the theater — and then digital rentals and purchases — has started to become the new industry standard.
Again, this hasn't been confirmed yet. But if you're beating yourself up about not having had three hours to go see The Batman, just sit tight. By Easter, you can (probably) watch Bats at home.
This article was originally published on