Pattinson's 'The Batman' Will Be the Longest Bat-Movie Ever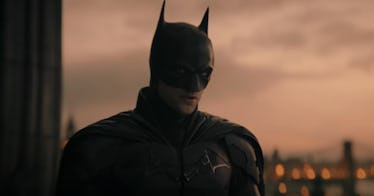 Matt Reeves' The Batman is one of the most anticipated films of the year but you're going to want to make sure you use the bathroom before Robert Pattinson's Bat-era officially begins, as its nearly three-hour runtime will officially make it the longest Batman movie ever made.
The official runtime for The Batman is two hours and 47 minutes without credits, meaning that with credits it will be knocking on the door of three hours. This easily beats out Batman (1989), Batman Returns (1992), Batman Forever (1995), and Batman and Robin (1997), which all ran at a little over two hours. Once Christopher Nolan took over, the caped crusader's movies began getting longer but The Batman even manages to outlast The Dark Knight Rises, as the final chapter in the Nolan trilogy is two hours and 45 minutes (with credits).
If you want to get real technical, it could be argued that the Snyder Cut of The Justice League is longer, since it's just over four hours long. But a Justice League movie doesn't really qualify as a Batman movie. Plus, even Batfleck's Batman Vs. Superman: Dawn of Justice is 2 hours and 31 minutes, still shorter than The Batman.
The Batman won't just be the lengthiest Dark Knight movie; it's set to become one of the longest comic book superhero films, falling behind only the previously mentioned Snyder Cut and Avengers: Endgame.
Sitting in a theater for almost three hours is a long time but that's not necessarily a bad thing, as evidenced by Endgame's otherworldly popularity. So what it really comes down to is whether or not this latest iteration of Batman is good or not. And DC is certainly counting on it to be hit, as the MCU continues to churn out hit after hit while their rival struggles to make two good movies in a row. If The Batman is a hit, it could mark the beginning of a turnaround for DC.
The Batman will hit theaters on March 4.
This article was originally published on