5 Times When Kurt Russell Played Father Figure Of The Year
Kurt Russell plays a better father figure than an actual father. Here are five times he nailed it.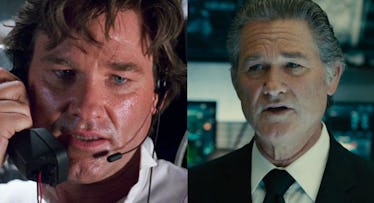 Kurt Russell made his Marvel Cinematic Universe debut this week playing Ego, Peter Quill's father in Guardians of the Galaxy Vol. 2. It feels like a familiar role for Russell: a long-haired, bearded father spouting off wisdom and advice to his onscreen children. But he of the artfully sculpted stubble has only played dad a handful of times in such films as Poseidon, Stargate, and Overboard. So why do we associate him with raising kids? Because he plays one hell of a father figure. Dare we say Russell is as good at impacting the main characters as he is at wearing an eye-patch.
Captain Ron Rico in Captain Ron
As the titular captain hired by Martin Harvey (Martin Short) to take his family around the Caribbean, Russel is sleazy perfection. And he very quickly becomes the alpha on the boat, rescuing Harvey from guerillas, teaching the family how to sail, and giving the youngest boy his first swig of beer. In the end, Ron helps Harvey look like a hero to his family, but this is a 90-minute testament to the power of Ron's swashbuckling charm. Who wouldn't want to learn life lessons from this guy?
"Mr. Nobody" in Fast & Furious
From an unknown government agency, Russell's "Mr. Nobody" shows up knowing everything about Dom and his crew, with a limitless, unexplained small army, and a vault of fast (and presumably furious) vehicles. "Nobody" displays his father-like quality twice: First, handing the Toretto family the film's super weapon the God's Eye like how a parent gives a child a new toy; then giving Dom a nice little lesson on why Belgian ales are infinitely better than Corona. Even though Dom is pushing 50 it's never too late to learn something new.
Dr. David Grant in Executive Decision
In this late '90s action thriller known for teasing Steve Segal but then killing him off in the first half our, Russell plays Dr. Grant, a government consultant who joins an army special ops team to board a commercial plane hijacked by terrorists. Grant ends up leading the team of highly skilled soldiers to stop the bad guys. Is it absorb? Sure. But despite his lack of really any skill whatsoever, Grant is the smartest, mellowest member of the team — keeping everyone calm and providing a plot-moving pep talk to flight attendant, Halle Berry.
Wyatt Earp in Tombstone
Russell's Wyatt Earp is the no-bullshit tough guy of all tough guys. While calm under pressure and always concerned for is posse, Earp acts as a father figure to not only his brothers but also the terminally ill Holliday (played by Val Kilmer). Hell, Holliday looks up to Earp so much, he ends up getting off his death bed to save Earp in a final shootout.
Jack Burton in Big Trouble in Little China
Even though he's not a father, Jack Burton ticks all the stereotypical dad boxes. He's always asking questions, he's constantly out of the loop, he's brash, dumb, dresses terribly, talks loudly, and just misses out all of the fun. The American kung fu film directed by John Carpenter sees Burton and his friend Wang Chi rescue two green-eyed women from the ancient Chinese sorcerer Lo Pan. The mullet wearing Burton is probably the worst action hero in movie history, but he's filled with endearing qualities.