The 15 Meanest Family Movie Insults
From 'ET' to 'Stepbrothers', here are 15 movies where family members verbally annihilated each other.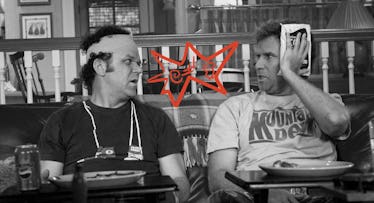 No matter how calm, cool, and collected you are, fighting is an unavoidable part of life. And while you're sure to take your share of insults from friends, coworkers, and strangers, we all know deep down that nobody can tear you a new one quite like your flesh and blood. And this universal truth is constantly shown onscreen, as nearly every great family movie features an iconic family fight that includes a variety of insults that are hilarious or heartbreaking or, in some instances, both at the same time. So, in honor of Family Fight Week, Fatherly decided to round up the 15 meanest insults in movie family history. Enjoy the beautiful brutality.
E.T.: The Extra-Terrestrial (Brother vs. Brother)
Elliot (To his brother Michael): "It was nothing like that, penis breath!"
When Elliot has finally had enough of his older brother teasing him, he busts out this hilarious insult to shut him up. It's such an unexpectedly solid burn that Elliot's mom has to stifle laughter while she tries to reprimand her son's foul mouth.
Step Brothers (Stepbrother vs. Stepbrother)
Dale: "You and your mom are hillbillies. This is a house of learned doctors."
Brennan: "You're not a doctor. You're a big, fat, curly-headed fuck."
The first 45 minutes of this insane family comedy pretty much revolves around Brennan (Will Ferrell) and Dale (John C. Reilly) seeing who can sling the most vicious insult at the other. And none hit harder than when Brennan drops this perfect diss on his new fully grown stepbrother to make it clear that he is the furthest thing from a doctor.
War of the Roses (Husband vs. Wife)
Oliver: "I think you owe me a solid reason. I worked my ass off for you and the kids to have a nice life and you owe me a reason that makes sense. I want to hear it."
Barbara: "Because. When I watch you eat. When I see you asleep. When I look at you lately, I just want to smash your face in."
Oliver Rose (Michael Douglas) likely did not realize how blunt Barbara (Kathleen Turner) would be when he asked her to explain why she wanted a divorce. Sometimes the truth sets you free and other times it kicks you right in the groin over and over.
Knocked Up (Wife vs. Husband)
Debbie (To her husband Pete): "I know we're supposed to be nice with each other right now but I'm having a really hard time with it. I'm struggling with it right now. I want to rip your head off because you're so fucking stupid."
When Debbie (Leslie Mann) tries to convince Pete (Paul Rudd) to take his parenting responsibilities more serious, he continues to make jokes, leading her to not-so-subtly threaten him while letting him know that she thinks he's a total moron. Because nobody knows how to tear you apart more than your soulmate, am I right?
Thor (Father vs. Son)
Odin: You are a vain, greedy, cruel boy.
Thor: And you are an old man and a fool.
When Odin (Anthony Hopkins) reprimands his son Thor (Chris Hemsworth) for his immature and self-centered attitude, it quickly devolves into a Shakespearean battle of the wits, with both letting the other know what they really think of them in the most creative and mean-spirited way possible.
Home Alone (Uncle vs. Nephew)
Uncle Frank (To his Nephew Kevin): "Look what you did, you little jerk!"
Poor Kevin receives his fair share of verbal abuse from family members but this insult from his uncle sticks out because it comes from a real place. That palpable sense of frustration and disdain cuts far deeper than any clever French insult ever could.
Dan In Real Life (Daughter vs. Father)
Cara (To her dad): You are a murderer of love!
On the surface, this might seem less vitriolic than most of the other insults on the list but once you see the pure passion and hatred coming from Cara (Britt Robertson), you can see why Dan seemed a little scared watching her scream from the front yard.
Zoolander (Father vs. Son)
Larry Zoolander (To his son Derek): "You're dead to me, boy. You're more dead to me than your dead mother. I just thank the Lord she didn't live to see her son as a mermaid."
When Derek (Ben Stiller) returns home to rediscover who he is, he finds that his dad Larry (Jon Voight) doesn't take too kindly to his vain, superficial lifestyle. And things really come to a head when a commercial comes on that features Derek as a dimwitted mermaid (MERMAN!). In a fit of shame and rage, Larry tells Derek the extremely harsh truth that he is dead to him and that his dead mother would be ashamed of him.
Lord of the Rings: Return of the King (Father vs. Son)
Denethor: Is there a captain here who still has the courage to do his lord's will?
Faramir: You wish now that our places had been exchanged… that I had died and Boromir had lived.Denethor: Yes, I wish that.Faramir: Since you are robbed of Boromir… I will do what I can in his stead. If I should return, think better of me, Father.Denethor: That will depend on the manner of your return.
Poor, Faramir. All he ever wants to do is make his dad proud and how does Denethor treat him in return? Like a waste of time and space. Even when Faramir offers to essentially ride to his death to please his father, Denethor still throws shade.
Donnie Darko (Brother vs. Sister)
Donnie: You're such a fuck-ass!
Elizabeth: What? Did you just call me a "fuck-ass"? You can go suck a fuck.Donnie: Oh, please, tell me, Elizabeth, how exactly does one suck a fuck?Elizabeth: You want me to tell you?
There is an anger that exists between siblings that can't be found anywhere else. It's an anger that is raw and causes all sense of propriety to fade away in favor of pure, unadulterated rage. And when Donnie (Jake Gyllenhaal) and Elizabeth (Maggie Gyllenhaal) begin sniping at each other during family dinner, it's not too long before they begin battling over who can find the most ridiculous way to tell the other to go fuck themselves. And yes, bonus points because they're actually siblings.
Jersey Girl (Daughter vs. Father)
Gertie: "I hate you! I hate you! I wish you died, not mommy!"
Ollie: "I hate you right back, you little shit. You and your mom took my life away from me. I just want it back!"
Every parent has that moment where they are pushed to the edge and say something to their kid they will regret later but Ollie (Ben Affleck) went about nine steps too far by telling his daughter Gertie (Raquel Castro) he hates her and blames her for his lack of success in life. Even when you know it's coming, it's still hard to watch.
Talladega Nights (Father-in-Law vs. Son-in-Law)
Chip: You're gonna let your sons talk to their grandfather that way? I'm their elder.
Ricky: I sure as hell am, Chip. I love how they're talking to you cause they're winners. Winners get to do what they want. Hell, you're just a bag of bones. The only thing you've ever done is make a hot daughter. That's it. That's it. THAT IS IT!
The relationship between a spouse in their in-laws is never easy but it is especially difficult when a son-in-law has no problem letting his wife's husband know he believes he is entirely useless, beyond the fact that he made his wife.
Warrior (Son vs. Father)
Paddy: Come on, kiddo. I've been there. I've done it. I've seen it. You can trust me. I'll understand.
Tom: Spare me the compassionate father routine, Pop. The suit don't fit.Paddy: I'm really trying here, Tommy.Tom: You're trying? Now? Where were you when it mattered? I needed this guy back when I was a kid. I don't need you now. It's too late now. Everything's already happened. You and Brendan don't seem to understand that. Let me explain something to you: the only thing I have in common with Brendan Conlon is that we have absolutely no use for you.
This entire movie is about estranged relatives who are forced to interact with each other, so it should come as no surprise that Warrior is filled with some of the cruelest familial insults in cinematic history, including a devastating exchange between Tom (Tom Hardy) and his dad Paddy (Nick Nolte). Tom doesn't just hurt his dad; he destroys him.
Nine Months (Wife vs. Husband)
Gail (To her husband Marty): I hate you! You did this to me you miserable piece of dick-brained, horseshit slime-sucking son of a whore bitch!
It's no secret that giving birth is a painful experience and that as much as dads try to sympathize, they'll never really know what that pain is like. But that doesn't keep Gail (Joan Cusack) from trying to unleash her pain onto Marty (Tom Arnold) as she is about to give birth, as she uses her agony to create a string of poetic vulgarities directed at her husband.
Walk The Line (Father vs. Son)
Ray Cash (To his son Johnny): "Mister big shot, mister pill poppin' rock star. Who are you to judge? You ain't got nothing. Big empty house? Nothing. Children you don't see? Nothing. Big old expensive tractor stuck in the mud? Nothing."
If this list proves anything, it's that fathers have the ability to hurt kids in a way that nobody else can. Look no further than this excruciating moment where Ray Cash (Robert Patrick) lets his son Johnny (Joaquin Phoenix) know how pathetic he finds his entire existence. (Note: we could not find this clip online anywhere, guess you're just going to have to watch the movie!)