The 10 Best Dad Instagrams of the Week
From celebrities to foodies, here are 10 dads who absolutely killed it on the 'Gram this week.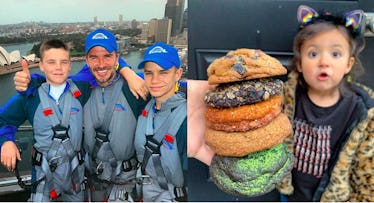 Instagram: David Beckham Instagram: foodbabyny
Fatherhood can be an isolating experience but thanks to the power of the internet, dads across the world can connect in ways that were never possible before. Case in point: Instagram. The photo-sharing app has become an essential facet of the modern parenting experience, helping dads everywhere laugh and feel moved by the same images, videos, and, of course, memes. Because fatherhood is an experience worth sharing and rad dads are people worth celebrating.
And whether you are a brand new dad or a seasoned veteran in the parenting game, it always helps to get to see all of the hilarious, badass, and generally awesome dudes do their dad thing. Which is why, each week, Fatherly pays tribute to some of the best dad moments that were captured on Instagram. From celebrities to foodies, here are 10 dope as hell dads who absolutely killed it on the 'Gram this week. Enjoy.
Crikey!
David Beckham and his two sons had some fun down under and snapped an awesome photo as they climbed to the top of Harbour Bridge.
Fall Is Life
Fall has officially arrived which means pumpkin patches, hay rides, and, of course, apple picking with the fam.
Dad Rock & Roll
We think it's gonna be a long long time before Neil, David, Harper, and Gideon forget about getting to meet Elton John backstage at his Madison Square Garden concert.
Kooky For Cookies
Her face says it all.
King James Celebrates His Princess
LeBron was on the road for his daughter's fourth birthday but he posted a video of her party along with some sweet words for Zhuri. The world's greatest basketball player continues to also be the world's greatest dad.
Play Ball
Forget about the World Series, the most exciting baseball involves a tee.
Sneak Attack
Will Smith in full dorky dad mode (in the best way) as he tries and fails to scare Jaden.
Picture Perfect
This incredible photo will make you start planning your next family road trip.
Dapper Duo
You already know that Khaled is gonna go all-out to celebrate Asahd's birthday.
Urine Too Deep
Sometimes being a parent just means letting your kid learn from their own mistakes, like sitting in a urinal.