Ted Lasso Supports Simone Biles In the Most Ted Lasso Way Possible
by Tess Gionet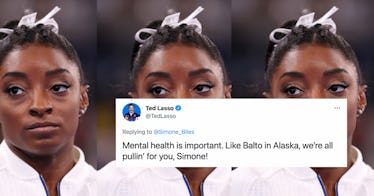 Credit: Apple TV and Getty
The world was shaken earlier this week when Simone Biles, the gymnastic GOAT, withdrew from the women's team final at the Tokyo Summer Olympic Games. Biles stated mental health issues as her reason, saying she was tired of second-guessing herself and wanted to let her teammates "go out there and do their job." Biles showed every indication of nabbing another gold medal (or four) this year, so her quit hit fans hard. That said, the responses pouring in have been overwhelmingly supportive of the 24-year-old athlete. The best one? Ted Lasso's, of course.
Ted Lasso (alter ego of Jason Sudeikis), the most believing-est, and inspirational coach to have ever coached a fictional soccer team, tweeted his support of Biles yesterday from the official Ted Lasso account.
For those fans who have watched Season 1 and are onto Season 2 of Lasso, you know that Ted is truly the only person up to the job of cheering a fallen teammate, and his tweet did not disappoint. (Please read the following in Ted's voice, for optimal effect.) "Mental health is important," Ted tweeted in response to Bile's single white heart emoji tweet yesterday evening. "Like Balto in Alaska, we're all pullin' for you, Simone!"
Lasso's tweet is sure to have made a heart-heavy Biles smile, and probably proceed to binge-watch of all season 1 again.
Ted Lasso Season 2 is streaming on Apple TV+ now. New episodes drop on Fridays.