'Ted Lasso' Season 2: Release Date, Cast and Episode Schedule
It's bigger, longer and... there's a Christmas episode?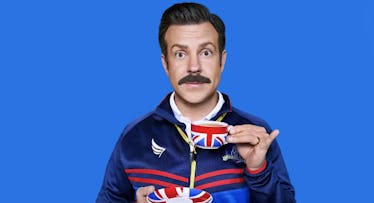 Credit: Apple TV+
In 2020, Ted Lasso Season 1 was the perfect show at the perfect moment. Locked-down, scared Americans across the country needed a laugh and a smile last August, when COVID-19 was at its worst, leaving thousands dead daily. And the nation was reeling from the fallout of George Floyd's murder. Along came Jason Sudeikis's little soccer ball of joy. Across its 10 episodes, the Apple+ comedy series gave us a wonderful character in Ted, an eternally optimistic, if seemingly in-over-his-head American football coach recruited to manage a long-struggling British soccer team. Add in some sweet corniness (usually Ted's jokes, proclamations, and speeches), a bit of relatable family drama (he's getting divorced and is far away from his young son), a good deal of surprisingly exciting soccer intrigue, and a steady supply of Ted's buttery biscuits, and the series turned out to be everything people didn't even realize they so desperately craved.
Season 2 will kick off on July 23, and we're ready for it. So ready. Of course, everyone worries about a possible sophomore slump, but early reviews suggest that the second season is equal to, if not even better, than the first. Here's everything we know about season 2 of Ted Lasso. Mild spoilers for Ted Lasso Season 1 ahead.
When Does Ted Lasso Season 2 Debut?
Season 2 of Ted Lasso will premiere on Friday, July 23, and consist of 12 episodes total. That's two more than in Season 1. Unlike last season, however, when Apple+ delivered the first three episodes in one fell swoop, followed by seven weeks of a single episode at a time, Apple will now debut one episode on July 23, with the next 11 airing one at a time through to late September. And while it's great that we're getting more episodes this season, keep in mind that Sudeikis – who is not only the show's star and co-creator, but one of its writers and executive producers – swears that Ted Lasso will hang up his whistle after three seasons.
Who Is in the Cast of Ted Lasso Season 2?
Based on the trailer, as well as press notes and material provided by Apple+, all of the characters in Ted's small circle are still in his small circle. So, that's team owner Rebecca Welton (Hannah Waddingham), whom Ted won over in Season 1; brash and wise branding consultant Keeley Jones (Juno Temple), who is dating Roy Kent (Brett Goldstein), the aging, ever-cranky, potty-mouthed ex-Greyhound star who occasionally loosens up in the presence of Keeley, his young niece Phoebe, and, very, very reluctantly, Ted; as well as the recently promoted assistant coach Nate "The Great" Shelley (Nick Mohammed, who stole the show last season and has a much larger role this season), and assistant Coach Beard (Brendan Hunt), who actually understands the finer points of soccer. And then there's the team's communications director, Higgins (Jeremy Swift), who's both a wimp and brave, ignored but indispensable, and the butt of jokes but a wonderful human being.
Ted Lasso Season 2 does have exactly ONE new cast member: Sarah Niles, last seen on I May Destroy You and Catastrophe, appears to be the show's main fresh addition – or at least the only main addition announced thus far. The actress plays Sharon, a no-nonsense sports psychologist named Dr. Sharon Fieldstone. During an interview with Entertainment Weekly, Niles said, "I think Ted surprises her. And she may surprise Ted."
Ted Will Be Ted
Ted is back, and as hopeful as ever, but not all is well with his team AFC Richmond. Despite overachieving last season, the Greyhounds lost their biggest game, resulting in their expulsion from the Premier League. They're working toward an appearance in a major tournament, but are mired in a series of draws. Also in the way, an old frenemy: the talented, but arrogant and selfish star, Jamie Tartt (Phil Dunster). And let's not ignore three important Ted-centric details: he experienced a panic attack last year when it came time to sign his divorce papers; Led Tasso, his Hulk/Mike Ditka-esque alter ego is always lurking; and the song that dominates the Ted Lasso season two trailer is… "Under Pressure."
Love on the Pitch? Get Ready for a Christmas Episode!
The Season 2 trailer makes it clear that a Christmas episode will be among the 12, and according to several reviewers who've already screened the first half of the season, a story thread within that specific episode echoes – minor spoiler ahead – Love, Actually. How, we don't know, but as massive fans of that movie, consider us chuffed.
Ted Lasso Season 2 will premiere on Friday, July 23 on Apple+.