RIP Taylor Hawkins: Liam Gallagher, Dave Grohl, and Millions Mourn the Foo Fighters Drummer
Shortly after his death, countless fans and fellow musicians paid tribute to Hawkins online.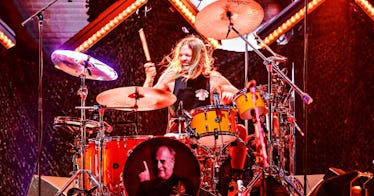 (Photo by Paul Rovere/The Age/Fairfax Media via Getty Images)
Foo Fighters drummer Taylor Hawkins died at the age of 50 on March 25, with the band confirming his death in a statement that was released on Twitter.
"The Foo Fighters family is devastated by the tragic and untimely loss of our beloved Taylor Hawkins," the message read. "His musical spirit and infectious laughter will live on with all of us forever."
Shortly after the news of his passing, a flood of tributes from fans and fellow musicians began showing up online to show their appreciation for Hawkins. Here are just a few of the many people who honored Hawkins.
Dave Grohl
While Grohl has not released any public statement since Hawkins' death, he did shower praise onto his bandmate during their final performance together, saying onstage that "we love him so much" and calling Hawkins "the best f***ing drummer in the world."
Liam Gallagher
Gallagher paid tribute to Hawkins on social media, writing: "Absolutely devastated to hear the sad news about Taylor Hawkins my thoughts and prayers are with his family and friends RIP brother." And he also honored Hawkins during his concert at London's Royal Albert Hall, dedicating 'Live Forever', the last song of the show, to the late drummer.
Travis Barker
The former Blink 182 drummer posted a photo of Hawkins on Instagram along with an emotional caption talking about their friendship, writing that "to say I'll miss you my friend isn't enough."
Brian May
The Queen guitarist wrote that he was "heartbroken" about Hawkins' death and wrote "that you were family to us. Our friend, our brother, our beloved child."
Ringo Starr
The Beatles drummer shared a photo of Hawkins on Instagram, along with the caption: "God bless Taylor peace and love to all his family and the band peace and love."
Miley Cyrus
The singer announced that she was dedicating her performance at Lollapalooza in Brazil to the memory of Hawkins and she delivered an emotional rendition of her song 'Angels Like You' in his honor.
Jill Biden
The First Lady wrote on Twitter that Hawkins was a "ferocious drummer, dedicated father, and dear friend gone far too soon."
Mick Jagger
The Rolling Stones frontman tweeted that he was "[s]o incredibly sad" about Hawkins' death, along with a photo of him.
Ozzy Osbourne
The Black Sabbath singer tweeted that Hawkins "was truly a great person and an amazing musician."
Stevie Nicks
On Instagram, Nicks posted a photo of her and Hawkins that was taken at the photo booth in the Foo Fighters' studio, along with a caption that celebrated the late drummer as someone who "had a huge heart and a glorious smile. When he walked into the room, everyone looked up. When he left the room, everyone was sad…"