Sweet! Timothee Chalamet and Tom Holland Reportedly Considered for 'Wonka' Prequel
Do we need another 'Wonka' movie? Well, this one sounds...decent?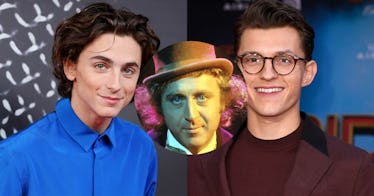 Getty
Is it purely our imagination, or would Timothee Chalamet make for a perfect Willy Wonka? We just might find out, as Warner Bros. is prepping a Charlie and the Chocolate Factory prequel called Wonka and reportedly eyeing Chalamet to play the quirky candy king. If it happens, the Oscar-nominated star of Call Me by Your Name, Beautiful Boy, Little Women, and the upcoming Dune, will follow in the footsteps of Gene Wilder and Johnny Depp. (Well, at least in terms of taking on a specific part in a kids' movie.)
According to the Hollywood trade paper Variety, Warner Bros. is aiming for a March 17, 2023 release date… theatrically, by which point, hopefully, the pandemic will be well behind us. And the team behind the project sure hits the sweet spot for family fare, as producer David Heyman mounted the Harry Potter films and Paddington, while Paddington and Paddington 2 director Paul King is on board to helm Wonka, working from a script currently credited to Simon Rich, who contributed to the writing of Inside Out, and Simon Farnaby, who co-wrote Paddington 2.The idea of a prequel to Roald Dahl's beloved Charlie and the Chocolate Factory suits us here at Fatherly, in large part since Tim Burton's 2005 big-screen version of the story left an awful taste in the mouths of so many people. Chalamet has charm to spare and is a superb actor, plus he's young and relatable, all of which would come in candy, er, handy, as Wonka will presumably spotlight the early days of the eccentric character. Chalamet isn't the only A-list name being considered for the role, as Collider reports that he and Spider-Man star Tom Holland are both in the running. Likewise, Wonka isn't the only Charlie and the Chocolate Factory game in town. At the start of 2020, Netflix announced that Taika Waititi was set to write, direct and executive produce two animated series inspired by the works of Roald Dahl, one "based on the world and characters of Charlie and the Chocolate Factory," and the other "a wholly original take on the Oompa-Loompas, that builds out their world."And maybe, just maybe, in one project or the other, we'll find out if Wonka's pet is a… chocolate lab!
This article was originally published on