Surprise! 'Loki' Season 2 Announcement Has Some James Bond Flair
This is the first new Marvel TV show to get a second season.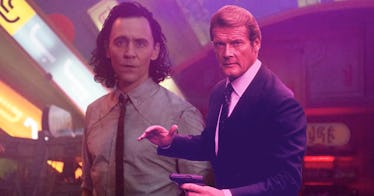 Disney / United International Pictures
No one expected that! After the shocking finale of Loki (no spoilers yet!), the biggest news isn't about a big Marvel superhero cameo, or even a deep-dive into the branching and complex timeline. Instead, the post-credits scene for Loki Season 1 on Disney+ reveals something that the new MCU TV shows haven't done yet: Continued into a Season 2!
After the credits roll on the finale of Loki Season 1 — Episode 6, "For All Time. Always." — a big red rubber stamp comes out on Loki's TVA file which simply states: "Loki Will Return in Season 2."
Prior to this, neither WandaVision nor The Falcon and the Winter Soldier was given second seasons, partially because the Marvel powers-that-be made it seem like that was never the plan. Wanda is going to hang out in Doctor Strange In the Multiverse of Madness, while our new Captain America, Sam Wilson, will likely get his own new Cap movie, or appear in a future Avengers flick.
Here's the Loki post-credits Season 2 announcement.
So, now Loki (and possibly Sylvie) are set to return in Season 2 of Loki. This surprise announcement comes right at the tail end of the credits of Loki Episode 6.
The tradition of teasing the return of a character in a new installment wasn't invented by the James Bond film franchise, but the way Loki phrases it with on-screen text is reminiscent of the way Bond movies would tease the next installment with text on the screen like: "The end of The Spy Who Loved Me. But James Bond Will Return in For Your Eyes Only."
Not all James Bond movies feature the exact title of the next adventure. The films in the Daniel Craig era tend to just end with "James Bond Will Return." Funnily enough, after The Spy Who Loved Me, James Bond did not return in For Your Eyes Only, at least not right away. The movie after The Spy Who Loved Me ended up being Moonraker. So, at the end of that movie, James Bond was again returning in For Your Eyes Only.
Hilarious, right? James Bond was returning in For Your Eyes Only for YEARS until it finally happened. Hopefully, some strange timeline branch doesn't result in something similar happening to Loki Season 2.
As of this writing, the release date for Loki Season 2 has not been announced.
This article was originally published on