How to Watch 'Street Gang,' the New 'Sesame Street' Documentary
Plus, where to snag the excellent book the new doc is based upon.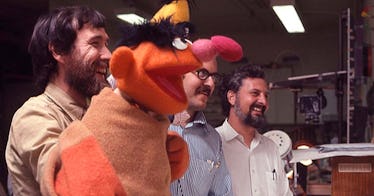 Sesame Street set the standard by which all educational children's and family entertainment is judged, and it remains a pillar of such programming. And while the seminal show, which premiered in 1969, has been explored in books and documentaries about many of those involved (I Am Big Bird: The Caroll Spinney Story and Muppet Guys Talking, for example), few have delved into the full story of how Sesame Street came together, from determining what lessons to provide children (and parents) to corralling the educators, actors, songwriters, writers, sponsors, puppeteers and more it took to realize Sesame Street. But now there's a new Sesame Street documentary and we've got the details on how to watch it and where it comes form.
Back in 2008, Michael Davis wrote Street Gang: The Complete History of Sesame Street, which put it all in prose and pictures. Now, director Marilyn Agrelo has crafted a documentary version of the book, updating it, and amplifying the experience with episode clips, new and old interviews, and classic bloopers. Street Gang: How We Got To Sesame Street actually centers on the first two experimental and groundbreaking decades of Sesame Street and the so-called "gang" that made it happen: Joan Ganz Cooney (co-creator and first executive director of the Children's Television Workshop), Muppet performers Jim Henson and Frank Oz, director Jon Stone, Carnegie Foundation vice president Lloyd Morrisett, producer and songwriter Christopher Cerf, songwriter Joe Raposo, and cast members Bob McGrath and Emilio Delgado.If you grew up on Sesame Street, or if your kids did (basically everyone), Street Gang is sure to be a trip down memory lane. Street Gang: How We Got to Sesame Street is playing in a limited release in movie theaters now — visit the official site to find a theater new you — and it will arrive on VOD platforms on May 7. In the meantime here's the pre-order info over at Amazon.
That said because it's going to be while on the movie, we really recommend that you grab the excellent book by Michael Davis. It will probably get to you faster than the movie will show up on VOD!