Streaming Services Are Running Out of Pre-COVID Movies and TV
After a year, we are finally seeing a decrease in original programming.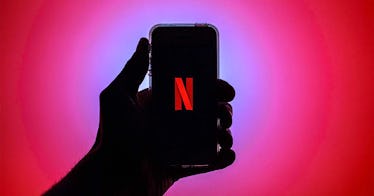 Getty
We are more than a year into the pandemic and the ongoing lockdown may finally be catching up with streaming services, as Netflix is beginning to see a decrease in original content. That's right! Netflix and other streaming services are running out of stuff!
At first, Netflix and other streaming services were uniquely qualified to continue pumping out programming despite the pandemic, as they had more content saved up than the networks, which struggled to put out new shows once productions were shut down. However, What's on Netflix's Kasey Moore wrote that the beginning of 2021 has shown that there has been a decrease in new shows.
"The number of originals Netflix has released so far this year has declined 12% from a year ago," Moore wrote. "This might seem slight, but seeing as Netflix ramps up its output quite a bit each year, that decline is notable. The number of licensed titles has dropped a whole lot more, which reflects other studios pulling their programs back for their own services."
These numbers seem to be supported by Bloomberg's Lucas Shaw, who said that he had spoken with Netflix executives who told him that the first two quarters of 2021 would be the most affected. This is because Netflix usually films original content several months (sometimes even longer) before it is released. But with the pandemic enduring for more than a year, the time has caught up with Netflix.
And Netflix is hardly alone in this shortage, as Shaw noted that HBO Max, Hulu, and Amazon Prime have all shown a decline in original content. To make up for these shortages, the services have purchased movies from studios (such as Amazon premiering Coming 2 America). But with the pandemic looking like it may finally be winding down with vaccines rolling out, perhaps streaming services will be able to begin making new content before they run out of original programming completely.
The flipside of this is obvious: Plenty of streamers are relating shows that were made post-COVID, or, like WandaVision, made both before and during COVID. Still, will we have fewer new shows by the end of this year? It seems likely.