How to Watch or Stream the 2022 Super Bowl LVI
Even without a TV, you can still watch the big game.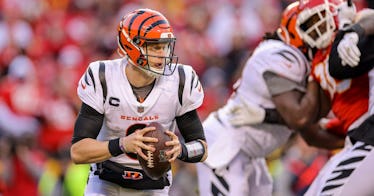 David Eulitt / Getty Images
Super Bowl Sunday is almost here but while you've been figuring out which snacks you're going to buy and what bets you're going to place, you may have forgotten to check how to actually stream the matchup between the Cincinnati Bengals and Los Angeles Rams. Fortunately, even if you've cut the cable cord, streaming the game is pretty easy. Here's everything you need to know.
How to watch the Super Bowl on streaming
The Super Bowl is being broadcasted on NBC so you can watch it on NBCSports.com or the NBC Sports app, though you will need a cable or streaming TV log-in to use either. You can also stream it on Peacock, NBC's streaming service, but you do have to have Peacock's premium subscription, meaning you'll need to pay $4.99 for a month of service. Since the Olympics are currently on NBC as well, it may be the perfect time to finally splurge for a month of Peacock, as you can get full access to the Super Bowl and the Winter Olympics for just a few bucks.
But if that's not your thing, there are plenty of other ways to stream the Super Bowl besides using Peacock. FuboTV, YouTube TV, Sling TV, and a variety of other streaming alternatives to cable offer NBC in their packages, which means that you'll have access to the game. You might even be able to do a free trial for a few of them to watch for free.
Whatever you end up using to stream the game, make sure you figure it out sooner rather than later. After all, there is nothing more embarrassing than having some buddies over only to discover that you don't actually have access to the game.
The Super Bowl will air on NBC at 6:30 pm EST on Sunday, February 12.
This article was originally published on