State Bags Founder Scot Tatelman Talks Fatherhood, Giving Back, and Working with Chance the Rapper
Scot Tatelman is determined to make the world a better and more stylish place for everyone.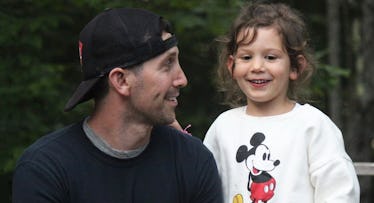 In 2009, Scot and Jacq Tatelman's nonprofit the Country Roads Foundation was ferrying kids from New York City's poorest and most underserved neighborhoods to summer camps outside the city and Chance the Rapper, who will alter the course of this story a few paragraphs down, was 16 years old. The Country Roads kids were happy. Jacq was happy. Scot was happy. But the devil is in the detail and Scot and Jacq were upset to see campers showing up with their clothes in trash bags. Luggage isn't the most important thing, but active kids spend a lot of time with their bags and the Tatelmans hated the idea of their children not being proud of their gear. They decided to addres–and hopefully fix–the problem.
"We both wanted to help these kids in any way we could," Scot recalls. "We decided to take the one-for-one model that TOMS so brilliantly created and bring it home to serve kids locally in the U.S."
There's no twist in this story — at least not this early in it — the Tatelman's started State Bags on the one-for-one charity model and the business grew. For every bag they sold, they gave a bag to a child in America needed it. Still, they weren't totally satisfied because, not to put too fine a point on it, the project felt unfun for the kids. Sometimes charity, however important, is a bit boring. But the Tatelmans thought they could solve for excitement so they started distributing backpacks through "bag drops," fun events featuring DJs and speaks that kids could get excited about.
State Bags worked with Beyonce's charitable foundation, President Obama's My Brother's Keeper initiative, and the Honest Company, giving out bags in Miami, Brooklyn, and Los Angeles. The Tatelmans had a girl, Ayla. She wasn't the most effective member of their team, but their company continued to grow and they diversified their colorful product. Then, this year, the Tatelman's decided to focus on Chicago. Why? Because Chicago can be a tough town. For the second consecutive year, the city is on pace to surpass 700 homicides, an unfortunate stat that hasn't been reached in more than a decade. And, Scot and Jacq figured, all that violence and struggle wasn't just affecting kids at home. It was changing how people from other cities saw local children and how they saw themselves.
"Kids from Chicago are labeled as worthless and dangerous before they're even old enough to understand what that means," Scot says. "I had worked in Chicago before and I knew there was another side to the story that was not being told. There's so much hope in Chicago. And that hope so often comes from kids."
It also comes from the community. Scot and Jacq were aware that Chance the Rapper had donated $1 million to Chicago's public schools. They'd read the stories with admiration (and listened to "Acid Rap") so they took a flier and reached out to his team. They heard back quickly and it wasn't long before they settled on the idea of giving out bags at the Bud Billiken Parade, an annual celebration of the African American culture and community. Chance was set to lead as 2017 Grand Marshal. On August 13, that's exactly what they did, distributing 30,000 bags and making national headlines.
"Working with Chance was amazing. He has the most genuine intentions and cares so deeply for Chicago," Scot says. "We have a lot of momentum right now and we are figuring out what our next big project or collaboration is going to be."
Working with Chance also gave the company serious momentum. Over the weeks since the big drop, Scot says State Bags has seen a noticeable increase in sales, traffic to the site, Instagram followers, retail partners and collaborations for future projects. "The Chance/SocialWorks partnership has brought us an incredible amount of new eyeballs to our brand," Scot says, adding that the timing, back to school season, has made the attention especially meaningful.
State Bags has already managed to deliver more than 100,000 donated bags to dozens of states across the country over four years, but when it comes to future bag drops, Scot says the company is sticking with a pretty simple philosophy: Aim big and deliver big. He knows reaching all his goals isn't going to happen overnight, but with the help of people like Chance–to the extent that there are people like Chance–he knows not only big thing, but huge things are possible in the service of little people.
"We've said from the start that our goal is to blanket every community in need across the US," Scot explains. He does not follow this up with a caveat. There is no caveat.