New Kids' Star Trek Show — Now With More 'Seinfeld'
Star Trek: Prodigy is set to premiere on October 28.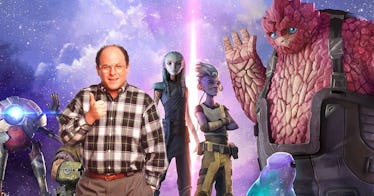 Paramount Picture Studios / Columbia Pictures Television
There is no such thing as too much Star Trek. With Star Trek: Prodigy – a new series aimed at bringing the youngest kids into the universe – nearing its premiere date, details are trickling out about what to expect. Most recently, the voice actors joining the franchise and plotline of the show have been released. And it sounds on-brand, but with more Seinfeld. Let us explain.
At New York Comic Con, on October 10, 2021, a new clip of the upcoming show Star Trek: Prodigy was shared, according to TrekMovie. The animated TV show, developed by Paramount+ and Nickelodeon Animation, will have some familiar characters. Some characters confirmed include a hologram version of Voyager Captain Kathryn Janeway (Kate Mulgrew) and First Office Chakotay (Robert Beltran), now Captain Chakotay.
On the panel at New York Comic Con, more details were released about the show, including some new voice actors joining the cast. Set to join the recurring cast is long-time Star Trek fan Jason Alexander, aka George Costanza.
Fans of the Voyager series will know that this isn't the first time Jason is joining the franchise. Previously, he had a guest role on season 5, playing Kurros. Kurros was the spokesperson for a group of alien scholars. Called the "Think Tank," the group traveled the galaxy solving complex problems – for a fee, of course.
He was a fascinating character, and Jason was the perfect person to play Kurros. It would have been cool to have the character reprised for the new animated series. Instead, Jason is lending his voice to Doctor Noum, a Tellarite in Star Trek: Prodigy. And we know that whatever role he plays, Jason is going to kill it.
Recently, Jason went viral on Twitter over Star Trek. More specifically, he weighed in on the news that original Star Trek star William Shatner (who played Captain Kirk) is heading to real-life space. Jason made a hilarious reference to an iconic Seinfeld episode and had Twitter in stitches.
Star Trek: Prodigy is set to premiere on October 28, 2021, on Paramount+, home to other Star Trek titles and kid shows, like Dora and Paw Patrol.