Does Stan Lee Have a Cameo in 'Captain Marvel'?
Does the late co-creator of Marvel appear in the latest MCU film?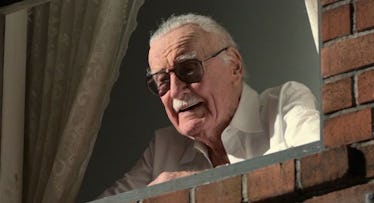 Last November, Marvel Comics co-founder Stan Lee passed away at the age of 95. Lee became a comic book legend as the creator of countless beloved superheroes, including Spider-Man, The Incredible Hulk, Black Panther, X-Men, Iron Man, The Avengers, and Captain Marvel and when his characters made the jump from the page to the silver screen, Lee found a second career as a beloved cameo actor, appearing in more than 50 films over his career.
But with Lee's death, comic book fans are wondering when they will see Lee on screen for the final time and with Captain Marvel hitting theaters this weekend, audiences will be clamoring to see if this is the last time we see the Marvel creator onscreen. So does Lee make a cameo appearance in the upcoming MCU film? We have the answer.
Warning: While we won't be giving away any actual plot points, we are obviously going to be discussing one very specific minor spoiler so if you'd like to go into Captain Marvel blind, stop reading.
We can confirm that Lee does make a cameo in Captain Marvel, as he briefly appears in the first half of the film. He also gets a nice little tribute in the film's opening credits, along with getting a dedication from the studio that owes so much to him. We know this won't be his final posthumous appearance, as it was confirmed that he will be in Avengers: Endgame but, regardless, we can all agree it's great seeing him onscreen again.
Captain Marvel comes to theaters March 8.
This article was originally published on