That One Time SpongeBob Got Dirty
OK, more than one time, honestly.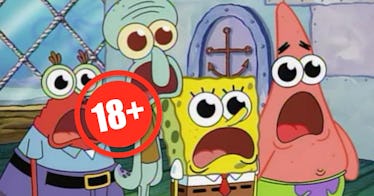 Paramount Pictures Studios
Some TV shows bring back the feeling of nostalgia for us. We grew up eating our morning bowl of cereal, watching things like SpongeBob SquarePants, and have memories of our favorite episodes. But, watching the show back now, it's clear that we missed a lot as kids. Like that one-time SpongeBob got dirty. Let me explain.
BuzzFeed asked its community to share a detail from a kids' show that went entirely over their heads until they were older. There are a few of these moments from the show cause SpongeBob is dirtier than we realized, and it's honestly blowing our minds.
"In the Texas episode of SpongeBob SquarePants, Patrick misheard SpongeBob and thought he said, 'Your penis is showing,'" one person shared. While the show didn't say that in words, it makes sense, it went right by us as kids, but Patrick looked down and asked, "where?"
That wasn't an isolated joke in SpongeBob either. Several community members shared other moments from the Nickelodeon cartoon where the joke was dirtier than we realized. For example, in one episode, SpongeBob wore underwear over his head and face. Unfortunately, the underwear placement made it look like his nose was an erection. Another episode had SpongeBob blowing up balloons to create a Squidward replica, and the balloons looked more like condoms.
The BuzzFeed article proves that these subtle adult jokes in kid shows aren't isolated to SpongeBob either. For example, Victorious alluded to Victoria's mom having an affair with her husband's co-worker. The show also made many subtle puberty jokes, which, honestly, are hilarious now that we can read between the lines.
Other examples of jokes that went right over our head include Helga's mom on Hey Arnold! alluded to having a drinking problem with all the smoothies she drank. There were also several subtle hints that Mr. Simmons was gay in that show.
When we were younger, these jokes went over our heads, so no need to get worried about our kids watching these episodes. But it's hilarious to look back on now. And honestly, it's nice to have an inside joke while stuck watching cartoons for hours with the kids.