'Spider-Man: Now Way Home' Photo Leak Reveals Huge Triple Cameo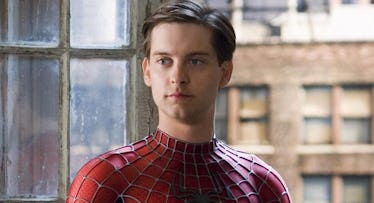 Credit: Sony
If your spidey sense is tingling, get ready for three different Spider-Men swinging into action in Spider-Man: No Way Home. Although several contradictory rumors have been swirling for more than a year, it seems like it's finally been confirmed: Tom Holland will be joined by at least two other former Spider-Man actors. And, on top of that, another Marvel hero has popped over from Netflix, too. Massive spoilers for a massive Marvel leak ahead.
According to a big leak on Reddit, Twitter, and elsewhere, two photos from No Way Home seem to confirm the impossible: Tom Holland's MCU version of Spider-Man will be joined in multiverse madness by Tobey Maguire and what appears to be Andrew Garfield. This means that for the first time, the MCU will merge three different versions of cinematic Spider-Mans into one movie. Obviously, there's an animated precedent for this kind of thing via the movie Into the Spider-Verse. But, for it to happen in live-action is something else entirely. Here's exactly what's in the leaked photos. (We won't embed the photos, but they are fairly easy to find online. For now!)
Three Spider-Mans on a boat
In one of the photos, we seem to see three unmasked versions of Spider-Man; Tom Holland, Andrew Garfield, and Tobey Maguire. Though to be honest, it's a little blurry and slightly unclear if that is Andrew Garfield.
Daredevil returns
However, in a different scene, we clearly see Charlie Cox as Daredevil, having some kind of meeting with Peter (Holland), Happy (Jon Favreau), and Aunt May (Marisa Tomei). This is relevant because although the various Netflix Marvel shows were always part of the MCU, we've never had a big crossover between any of those heroes — the Defenders — and the rest of the MCU. Cox's Daredevil was part of that Netflix Marvel universe, and recently Krysten Ritter told Fatherly she would be more than willing to rejoin the MCU as Jessica Jones.
So, what does it all mean? The short answer is that in terms of crossovers, Spider-Man: No Way Home may be the biggest Marvel movie yet. That is until Doctor Strange in the Multiverse of Madness hits in 2022!
Previously, it was confirmed that Alfred Molina, famous for playing Doc Ock in 2004's Spider-Man 2 would be crossing the multiverse to battle Tom Holland's Spidey. If you loved superhero movies in the early 2000s, this holiday season is clearly a giant nostalgic present wrapped with a spidey bow.Spider-Man: No Way Home hits theaters on December 17.
This article was originally published on