'Space Jam 2': Release Date, Streaming, Cast and Looney Tunes Cameos, Explained
The sequel to the 90s classic is coming this summer. Here's the deal.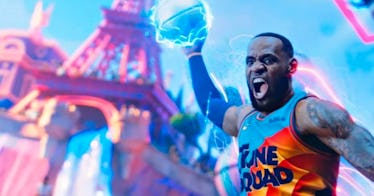 Warner Bros
After what has felt like several decades of speculation, Space Jam: A New Legacy is finally set to be released this summer. But with only a few months until its release, what do we actually know about the highly-anticipated semi-sequel? Warner Bros. has kept a lot of details under wraps but there have been some details the internet has been able to piece together. Here is everything we know about Space Jam: A New Legacy so far.
Who is in the Space Jam 2 cast? And what's up with those cameos?
In a nice bit of life imitating art, LeBron James is going to try to fill Michael Jordan's shoes on the silver screen, as the reigning champ is the star of A New Legacy. Don Cheadle will be playing an algorithm named AI-G Rhythm that also appears to be the film's villain. Sonequa Martin-Green will play James' wife, while Cedric Joe, Ceyair J. Wright, and Harper Leigh Alexander will play James' kids.
And like the original, there will be cameos from current NBA players, including Klay Thompson, Anthony Davis, Damian Lillard, Kyrie Irving, Chris Paul, Draymond Green, and Kyle Kuzma. WNBA players Diana Taurasi, Nneka Ogwumike, and Chiney Ogwumike are also slated to appear.
On the animated side, pretty much all the big-name Looney Tunes are set to return (with the possible exception of Pepe Le Pew?) but the big reveal is that this time around, the fictional characters won't just be limited to Bugs and his crew. Several other iconic fictional characters are mentioned or appear in the trailer, including the Iron Giant, Superman, and the Flinstones. How? Why? Well, mostly because they are Warner Bros properties. Will the movie over an in-universe explanation for the appearance of Superman and the Iron Giant? Will Superman slam-dunk a basketball? Let's hope!
When does Space Jam 2 come out?
July 16, 2021.
How can you watch Space Jam 2?
In theaters or on HBO Max.
What's In the Trailer?
The trailer lays out the movie's general plot. After some classic father-son conflict, James and his son Dom (Cedic Joe) accidentally end up trapped in virtual space by AI-G Rhythm (Cheadle). The rogue AI tells James that in order to get his son back, he has to beat him in a game of basketball, then sends him to Tune World where he meets the toons. James concocts a plan to assemble an animated superteam of epic proportions to defeat Rhythm's Goon Squad.
Wait! Why no Billy Murray in Space Jam 2?
Because there's no justice in this cruel world! The comedy icon was one of the best parts of the original but does not seem to be in the sequel. Though considering the secrecy surrounding A New Legacy, you never know. Also, he doesn't play defense.
Space Jam: A New Legacy is set to hit theaters and HBO Max on July 16.