How to Watch the 'South Park Vaccination Special'
You don't want to miss this.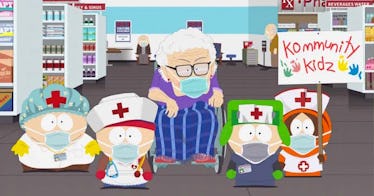 ViacomCBS
For over 20 years, America's sharpest social commentary has come from four little foul-mouthed cartoon fourth-graders living in a small town in Colorado. South Park has taken on everything from Scientology to the Trump administration to Disney's inevitable takeover of all entertainment. And now, we finally got to see what co-creators Matt Stone and Trey Parker have to say about the madness of 2021 with the "South Parq Vaccination Special."
The hour-long special aired on Comedy Central and MTV2 on Wednesday night but just cause you missed watching it live, doesn't mean you can't see the episode. Here is how you can stream the latest South Park special right now.
Where to Watch "South Parq Vaccination Special"
the Comedy Central appwebsiteHBO MaxiTunesAmazon Prime Video
What Is the Episode About?
Who Is Being Mocked?
Is South Park Back?
South Park
This article was originally published on