How to Watch South Park's Post COVID: The Return of COVID Special
The people of South Park are determined to return the world to post-pandemic times.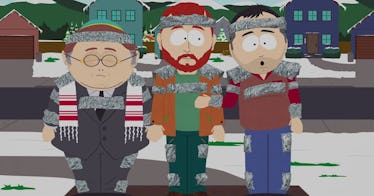 Paramount
A show that's never been afraid to cause a stir is back at it again. South Park continues to tackle the coronavirus, skewering anti-vaxxers, public health researchers, policed speech, and cryptocurrency (for starters) in its new partnership with Paramount+. The first special, South Park: Post COVID, aired in November and left viewers in a cliff-hanger. The second special, titled South Park: Post COVID: The Return of COVID, is about to air. Here's what you need to know (some mild spoilers below).
The first made-for-TV movie from the adult cartoon, premiered on Paramount+ on November 25 and left us wondering what would happen next, 40 years into the future. During the hour-long episode, we learned that Kenny grew up to be a famous scientist. He was (spoiler if you've never watched South Park before) killed.
The episode ended with Stan and Kyle vowing to travel back in time with Kenny's technology to prevent the virus and pandemic, and in turn, saving Kenny, too. Cue The Return of COVID.
When and Where is South Park's Post-COVID special streaming?
The first of the Post COVID specials is available to watch now on Paramount+. South Park's Post-COVID: The Return of COVID can be streamed on Paramount+ on December 16. It's the second in the 14-promised specials on the new streaming platform. This special is exclusive to Paramount+ so you won't be able to watch on Comedy Central or regular cable TV.
Can you use a free trial on Paramount+?
While a typical subscription will run $4.99 per month, if you've not had a subscription before, there is a way to get a free trial so you can watch the new South Park special. From now through January 3, 2033, Paramount+ is offering a full month free trial (typically it's only one week for free).
To sign up, visit Paramount+ website, click "get started," enter in the information it asks for, and then start streaming.