The New Nancy Drew is Your New Favorite Punk Rock Hero
Sophia Lillis explains how she became your daughter's new role model.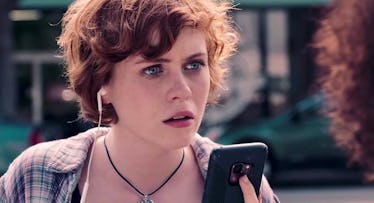 Warner Bros.
For 89 years, children all over the world have known one truth: The best female detective of all time is almost certainly Nancy Drew. This weekend, a new film version of the second Nancy Drew book ever — Nancy Drew and the Hidden Staircase — will introduce the world to the new face of Drew. Seventeen-year-old Sophia Lillis stars in the new adaptation of the beloved brainy kids' heroine. But, Lillis' take on Drew is decidedly different. In the books, the detective was reserved and a blonde, but Lillis' version is an outgoing, almost punk ginger on a skateboard. It's a refreshing adaptation of the beloved character and not only turns Nancy Drew into a great contemporary role model for young girls but also creates a heartfelt story about friendship in the process.
Prior to becoming Nancy Drew, adult movie moviegoers probably saw Lillis in the 2017 version of Stephen King's horror extravaganza It: Chapter One. And though Lillis is proud of her work in It and other horror films, she's happy that with Nancy Drew and the Hidden Staircase, she can finally invite her family and friends to see a movie she's in.
"IT was a lot darker than Nancy Drew. So, I'm happy to be in something with no bad language or horror or blood or gore," Lillis tells me. "I'm not drenched in blood in this one. That's something."
But, just like Lillis is not really Beverly Marsh in IT, she also doesn't feel like she is Nancy Drew, either. In other words, even though Lillis is young, she's a great actor.
"Nancy Drew is very outgoing. She's very active. She goes out a lot. She does things. She doesn't really care what people think," Lillis says. "But, I'm not like that. I do care what other people think and I guess I'm just not really as outgoing as she is, though I really wish I was."
Basically, even though Lillis is a likable and relatable shy teenager in real life, she is different because of the obvious reason that she's an actual movie star.
"A lot of people look at acting as 'Oh man, I wish I could do that. I wish I did that for one day.' And honestly, if you love doing it, just get started. I started at a young age, just because I felt like it was a fun thing to do. I just thought it would be a little fun hobby of mine."
Lillis is also quick to point out her parents weren't really worried about her acting one way or another. "They didn't care much actually. They were like 'Oh you like acting, well that's fine. Go for it I guess.' And then I did."
When Lillis isn't acting, she says she likes to read. But, she's not just reading old Carolyn Keene Nancy Drew books. Instead, defying all expectations, her favorite books aren't any hot YA series, or old school adventure novels. Instead, Lillis is jumping into some much more mature classics.
"I like to dabble. like psychology books. I like reading about psychology and philosophy. I have a few philosophy books that are in my room. I love writing," she says. "I'm starting to read Oedipus, which is fun. I only got a few pages in. I'm not gonna to say that I'm halfway through. I just started. I like it so far?"
Right now, Lillis is solving neighborhood mysteries in Nancy Drew and the Hidden Staircase. But who knows? By the time she's 20, she may have solved the mysteries of the human psyche.
Nancy Drew and the Hidden Staircase is out in wide release in movie theaters everywhere this weekend from Warner Bros Pictures.