Sonequa Martin-Green On 'Star Trek,' Parenting and 'Space Jam 2'
On having her second child during lockdown: "I had to be a safe space for my daughter."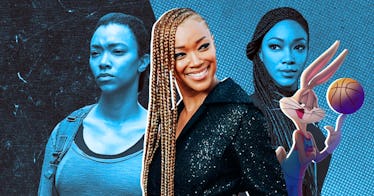 AMC / GETTY / CBS / WARNER BROS
Sonequa Martin-Green is balling. The actress experienced her first real measure of fame killing zombies as the sharpshooter Sasha Williams for several seasons on The Walking Dead. She then made history as the first African American female lead of a Star Trek series when Discovery debuted in 2017. By the end of its third season, Martin-Green's character, Michael Burnham, had settled into the captain's chair. Now, Martin-Green co-stars alongside LeBron James and a bunch of beloved Looney Tunes animated characters in the eagerly anticipated big-screen sequel Space Jam: A New Legacy.
Set for a hybrid theatrical and HBO Max release on July 16, A New Legacy casts Martin-Green as Kamiyah James, LeBron's wife and the mother of their three kids, who goes into mama bear mode when Al-G Rhythm (Don Cheadle), an evil A.I. entity, ensnares LeBron and their son Dom (Cedric Joe) in a virtual world called Warner 3000 Server-Verse. The only way out? LeBron must team up with Bugs Bunny, Daffy Duck, Porky Pig, Lola Bunny (voiced by Zendaya), and other Looney Tunes characters to beat a team assembled by Al-G Rhythm. Fatherly recently chatted with Martin-Green, who gave us the scoop on her Space Jam experience, hinted at things to come on Discovery, discussed giving birth – in the midst of the pandemic — to her second child, and paid tribute to the parenting skills of her husband, Kenric Martin-Green.
You were a little girl when the first Space Jam came out. How familiar were you with the film?I was a huge fan. It blew my mind at that time and I feel like I grew up on that movie. It's very near and dear to my heart.As a kid, who were your favorite animated characters? Were you into cartoons?Oh yeah, and especially the Looney Tunes. Saturday morning cartoons were my… jam! My favorites, I think at that time were, were Bugs and, and Tweety Bird. Tweety Bird was my ultimate favorite, but I loved Bugs, too.I can see all kinds of reasons why you'd want to be in Space Jam: A New Legacy: to work with LeBron, to pay tribute to a film you love, to get your crack at a major Hollywood movie, to be in something your kids, especially right now, your six-year-old son, Kenric, can see. What was the main reason you wanted to be in the movie?I think you just broke it down beautifully because it was all of those reasons. I especially wanted to pay tribute to the original film because it is such a beloved classic. And I just love that film so much, and I love what that film accomplished so much. So, I wanted to be a part of this new iteration of it for that reason, but I also had never done this kind of melding of sci-fi and family before. I'm new to this genre and I'm new to the summer blockbuster, too. Those were some major things that piqued my interest and made me excited for the project. But what ultimately made me the most excited was just the way the story has been modernized for today's audience. I have so much respect for the writers and producers and Malcolm Lee, the director, as well, for bringing this tale to life in this way that is both old and new, familiar and fresh. I think that it does the original justice and exceeds expectations in that way. And I think it can be something that people can latch on to the same way they latched on to the original.You tend to play strong, formidable women. What about Kamiyah was strong and formidable for you? This is the matriarch of this family, the matriarch of this home. She's the queen. And she co-leads with her king. I love their equal partnership. I love how they co-helm this family, but I love especially how Kamiyah is that strong, ferocious, protective mama bear, but is also so kind and gentle and graceful and patient, and knows exactly how to empower her family, how to empower her husband, how to empower her children. You know that they couldn't make it without her. I just love that we see that in this new iteration. I think it's one of the most important modernizations of this film from the original.Did you get any input about how to motivate LeBron from his real wife, Savannah?Well, I will say that I do believe this story pays homage to her, but I was able to just pull from the story. Thankfully, we didn't have to discuss things like that. We didn't have to talk about the way things go in his real life, with his real family. And we didn't have to talk about acting specifics or anything like that. Because he was 110% prepared, we were able to just dive into the story and just vibe in that way and tell this story together. We had a great camaraderie.Let's discuss working with the child actors who play your three kids…I was going to say that as well. We all had such a great group dynamic. Cedric and Ceyair (J. Wright) and Harper (Leigh Alexander), who played our children, they just are wonderful, young people. They're so talented and such good-natured people. So, we had a good time together. We joked a lot. We had a lot of fun. It was a good time. And that's a blessing, whenever you can have that kind of organic connection with someone that you're telling a story with.You had your second child, Saraiyah, last July, right in the middle of the pandemic. First, congrats. Second, what was it like to bring new life into the middle of what must've seemed like a Walking Dead episode?I know! It was a global Walking Dead episode. That's exactly right. It was surreal. I had a complication with my pregnancy, so it already felt tenuous. And I was just finishing season three of Discovery. We had just wrapped when, two weeks later, the world shut down. And at that point, I was just entering my second trimester of my pregnancy. So, I was overwhelmed. I use that word a lot, but I tend to be overwhelmed with gratitude a lot. I am, for being a part of Space Jam and also Discovery. And I was overwhelmed with gratitude with being able to bring life into this world because it gave me something very, very important and very, very insular to focus on over the course of this time that we were all just struggling to figure out what was going on in the world. I was able to balance myself because I had to be a safe space for my daughter. My womb had to be a safe space. If I was freaking out, she would feel it and I didn't want that. So, I was able to focus in and it ended up being such a gift for me. And I had her naturally at home, in the water, just like I had my son, naturally in the water. We felt like 2020 was one thing for everybody else, but it will always be this special year for us because our daughter came in that time.
Thanks to the way you carry yourself and the roles you play, you've become a role model for many young people, especially women. How seriously do you take that responsibility?As seriously as I can. As seriously as I can. I have actually learned the balance of that, though, because I take it so seriously, to a fault at times. So, I have to release the pressure that I put on myself because everybody's going to come with their own perspectives and perceptions and whatnot. You can't predict how someone's going to receive something. So, I have to remind myself of that, but I do take it very seriously.You're either just about finished shooting season four of Discovery or very deep into it…That's right. Yep, we're just about done.What excites you most about what's going on for Captain Burnham and her crew?The fact that we are now at the captaincy is what's really exciting. As we saw in the trailer that was released for season four, there's going to be this big, big, big, bad, dangerous thing that we have to all come together and solve. We're going to be fighting for the future like we always do. But what I love is that you'll be able to see everybody solidifying in their roles on the ship, especially me solidifying myself as captain of the ship, because now it's time for me to figure out what kind of captain I am as Michael Burnham.Now that you've done a potential summer blockbuster, what are your thoughts about a few more years of Star Trek?I'm so privileged and honored to be a part of these big franchises. It's just so exciting to me. I love being able to hop over into family [stories] and they both are sort of in space. So, that's cool. There are some parallels there, but I'm having a really good time. And, as I said, I take it really seriously, so I'm always striving to do it all justice.Last question. Since you're talking to Fatherly, what kind of dad is your husband, Kenric?I think he's a fantastic father. I think he leads with wisdom and grace, which is interesting because I was just saying that about Kamiyah James in Space Jam: A New Legacy. But my husband is so on point with really getting down to our children's levels and empathizing with them and having that gentleness, which is so important in a black family with a black father. So, I just dearly appreciate him for that because he plays, he's so adventurous and he's wild when he needs to be with the kids, but then he's also so soft when he needs to be, too. So, I do love that about him, about how he fathers.Space Jam: A New Legacy will open in theaters and stream on HBO Max beginning July 16.
Star Trek: Discovery Season 4 will hit Paramount+ in late 2021.