6 Awesome Items From 'Solo: A Star Wars Story' That We Want in Real Life
From Lando's card-shooting wrist-holster to that amazing drink-pouring droid.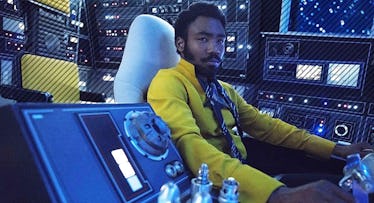 While Solo: A Star Wars Story may not exactly be crushing it in the box office, the film is an otherwise entertaining and world-building heist flick that hints to a bolder and bigger Star Wars Universe, one that includes characters who should be dead and intergalactic crime syndicates sparking the seeds of the resistance. Is it what hardcore fans wanted? No. Does it answer questions you never asked, such as why is Han's last name Solo? Sure does. But you know what? It's fun! It's exciting! And, like every good Star Wars film, has its fair share of cool gadgets we want to see in real life. From Lando's card-shooting wrist-holster and his many (many) cloaks to that amazing drink-pouring droid, here are six items from Solo: A Star Wars Story that we wish were real.
1. Lando's Sabacc Bracelet
While Sabacc enthusiasts can buy card games "inspired" by the game of Sabacc online, perhaps the most fun part of watching the game unfold in Solo was the fact that Donald Glover's Lando had a trick literally up his sleeve. He wears a bracelet in which he hides Sabacc trump card, so to speak, one that ensures he will always win the game, especially when laying his important property on the line, like, I don't know, a certain spaceship. While he doesn't get to use his trusted tool in the final game of Sabacc, it's definitely a cool tool. It fits comfortably under the most flamboyant dress shirt. And, in typical Lando style, it's also stylish. Let's make this happen.
2. All of Lando's Cloaks
One of the funnier gags in Solo is when Qi'ra steps away from the crew on the Millennium Falcon and finds herself in Lando's closet, which is quite literally just full of cloaks. There are like at least 30 cloaks in there and Qi'ra plays dress up with all of them. There are royal blue cloaks. Deep red cloaks. Midnight black cloaks. Some of the cloaks are appropriate for battle. Qi'ra wears one on Kessel in anticipation of that battle, which comes in handy in a slightly-off screen moment where she dominates a security guard. She does a front-flip and looks super cool doing it! Also, the cloaks are flame retardants, as Qi'ra later ripped it off her body to put out a fire that started on the Falcon. Here, here, Disney: please make Lando's many cloaks available. Halloween for kids, yes. But how about we get some adult versions from Atelier Lando?
3. Dryden Vos' Spears
Gangster Dryden Vos, played by Paul Bettany, carries some badass weaponry: two matching, double-sided spears that he wears like brass knuckles and which have a red laser running across the blade-edge. Up there with Darth Maul's red, double-bladed lightsaber and Kylo Ren's Crossguard lightsaber, the weapon is one of the more creative hand-to-hand combat tools in the Star Wars universe. A Nerf-ized version of this weapon would be pretty sweet.
4. Han's Gold Dice
One of the most surprising Easter eggs of Solo was seeing the origins of the twin golden dice that gained massive significance in the Star Wars sequels and in The Last Jedi. The twin dice, attached by a golden chain, were actually a good luck trinket for Solo that he often passed to his former lover, Qi'ra. Before she left his life for good by joining, what is ostensibly the dark side, she passed them back to him as a final wish of good luck. Later, we see the trinket being used by Han, Luke, and Leia to the same ends. Although the Gold Dice wouldn't be so much of a toy but a collectible, their significance in the universe as an arbiter of good luck over 30 years is pretty cool. We'd hang 'em on the rearview mirrors of our personal Millenium Falcons, which are just mid-sized sedans and minivans but, whatever.
5. A Dejarik table
Although not a new addition to the Star Wars Universe, the Dejarik table on the Millennium Falcon got a lot of screen-time in Solo when Woody Harrelson's Tobias Beckett explains the game to Chewie for the first time. Although many replicas of the game have hit the market, there has yet to be a fully operational version of the table that plays the game as it really exists in the Universe, where the "chess" pieces are holograms. Every time I see that damn game I just want to play it. It's like Wizarding chess meets AR games. It wouldn't take much to make this a reality. Sure there's Hologrid: Monster Battle. But can't we get Bethesda or someone to release a legit version?
6. That Robot That Pours Lando's Drink
When Han and Lando meet for the first time, they play Sabacc. As they are sizing each other up, Lando lazily grabs his cup and a flying droid comes to fill it up with what I assume is some sort of delicious boozy cocktail made with space Bourbon. Lando doesn't even say anything. No verbal commands, nothing. First of all, dope. Second of all, how do I get a drink-filling-droid in my office and home? Every time I want a glass of water in the middle of the night, you're telling me the world could have flying droids that just fill cups up with the liquid of our choice on command? Amazon's using droids to send packages. So can't someone build a drink-serving droid? Let's get this going, Bezos.
This article was originally published on