20 Years Later, 'Smallville' Remains the Most Misunderstood Superman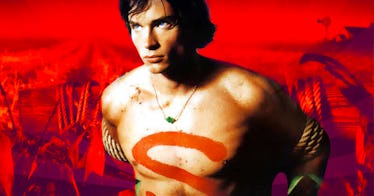 Warner Bros. Television Studios
We're not sure what's scarier, that Smallville ended its 10-year in 2011 or that the show debuted on October 16, 2001. Yes, it's been twenty years since the new, kind of edgy, ground-based Superman show came out. That new Superman show is now very much an old Superman show. Arguably, we could not have gotten the excellent new CW series, Superman and Lois in 2021, if Smallville hadn't happened first.
Alfred Gough and Miles Millar crafted a deceptively simple concept: center on the life of young Clark Kent (Tom Welling) as he grew up in Smallville surrounded by his family (Annette O'Toole and John Schneider as Martha and Jonathan Kent), friends (Michael Rosenbaum as Lex Luthor, Sam Jones III as Pete Ross, Allison Mack as Chloe Sullivan), romantic partners (Kristin Kreuk as Lana Lang, Erica Durance as Lois Lane), and enemies (John Glover as Lionel Luthor). So, why did Smallville work so well, for so long? And why does the show, in ways good and bad, remain top of mind? Let's take a look at the five key reasons.
5. The Leading Man
Tom Welling likely won't win an Oscar in his lifetime. That's not a criticism. Not everyone can be Marlon Brando, Tom Hanks, Daniel Day-Lewis or Jack Nicholson. That said, Welling nailed it as Clark Kent. Tall, handsome, broad, big smile, charm to spare. The all-American boy. Add to that, Welling shared nice chemistry with his castmates (especially and most importantly, Erica Durance several years into the show), excelled at light comedy, and held his own in the show's more dramatic moments. He was 34 when the series ended and looked it, but if audiences accepted the cast of Grease as teenagers, there are obviously no limits to the suspension of disbelief.
4. No Tights, No FlightsGough and Millar had no idea when they created Smallville that it'd run for 10 years, making it the longest-running superhero show in history. From the get-go, they instituted a "No tights, no flights" policy, meaning that audiences would never witness Clark become Superman and sport his tights and cape. A decade of that stretched the notion very, very thin, but a mandate is a mandate. They danced around it at times in dream sequences and teasing moments, including bits with the Blur, but only for a minute or two in the series finale did viewers glimpse Clark in full-on Superman mode.3. The Luthor Factor
Clark and company dealt with all sorts of villains, but Smallville benefited from two perfectly cast actors portraying the Luthors. John Glover oozed menace as Lionel Luthor. You truly hated the character and the havoc he wreaked so joyfully. Just as good was Michael Rosenbaum as Lex Luthor. Some of the show's best scenes featured Glover and Rosenbaum together. As for Lex and Clark, they began the show as friends, grew closer, and then morphed – as destined — into sworn enemies whose former friendship factored into their enmity and how they handled their moments of conflict. One of the series' best lines put it all in perspective: "If you look at history, the great men and women of the world have always been defined by their enemies."
2. Embracing the Past
The producers of Smallville clearly appreciated the Richard Donner-Christopher Reeve-Helen Slater era of the Superman and Supergirl sagas. Actually, they more than appreciated it, they embraced it, welcoming to the show a number of actors associated with Superman and Supergirl. Among those who made cameo appearances or recurred on Smallville were Christopher Reeve, Margot Kidder, Helen Slater, Terence Stamp, Mark McClure, and, of course, series regular Annette O'Toole. Smallville fans also like to point out that Amy Adams guest-starred in the first-season episode "Craving" long before she co-starred as Lois Lane in Man of Steel, Batman v Superman: Dawn of Justice, and Justice League.
1. The Flame Still Burns
Tom Welling and Erica Durance reprised their roles as Clark Kent and Lois Lane in an episode of Crisis on Infinite Earths, the 2019 Arrowverse crossover encompassing Supergirl, Batwoman, The Flash, Arrow, and Legends of Tomorrow. The episode featuring Welling and Durance found Clark and Lois back in Smallville, married, leading a quiet life and raising their two daughters. So, again, no tights, no flights. In fact, Clark had relinquished his Superman identity. And earlier this summer, during a Cameo call with a fan, Welling revealed that he and and old on-screen frenemy have a Super-project in development. "Michael Rosenbaum and I are actually working on an animated series to bring those characters back to life and use as many of the original cast members as possible," Welling said. "Don't tell anybody, though. It's a secret. We're still working on it."
Smallville is available now to stream on Hulu and DirecTV, and to purchase on AppleTV, Amazon Prime Video, Fandango, Google Play, and Vudu.
This article was originally published on