For The Rock, 'Skyscraper' Was Personal
Director Rawson Marshall Thurber explains why this movie is more than just a big action movie.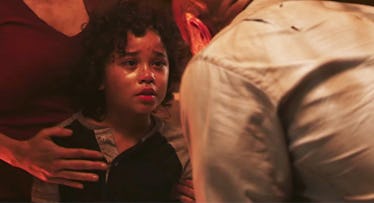 Columbia Pictures
This weekend, the badass action dad archetype returns to movie theaters in Skyscraper, starring Dwayne 'The Rock' Johnson as a father who discovers just how far he is willing to go to protect his family. In the movie, Johnson's character, Will Swayer, becomes an impromptu death-defying hero when his wife and two kids are stuck in a burning building occupied by a team of dangerous criminals. It's a blockbuster that is equal parts Die Hard and Towering Inferno, with a dash of Daddy Day Care. But, despite the literal sky-high setting, Skyscraper manages to feel relatively grounded, and that's because director Rawson Marshall Thurber was focused on an unwavering commitment to the enduring power of parenting.
Thurber, who is a father to two daughters, tells Fatherly that making Sawyer a parent is what makes the movie real, even in its most over-the-top moments. Thurber explains that fatherhood fundamentally alters a person in a way that no other experience can, which is why it has become such a reliable staple featured in so many action flicks.
"Once you become a parent, you have a different perspective on what matters and you understand how far you would go for the people that you love," Thurber says. "I don't think there's any greater motivating force on earth than your kids. The only thing you would risk your life for is the people you love and I think that mentality is at the core of what Skyscraper is about. The movie is about a husband and father who will do anything to protect his family and is willing to risk it all to keep them safe."
Johnson delivers a performance that features a seamless blend of fatherly sensitivity and total badassery. The badassery is unlikely to surprise anyone, as Johnson has certainly done his fair share of action movies. But Thurber says there is a depth to his performance in Skyscraper that is specific to the film; Johnson's performance came from his own experience as a father of three, as it allowed him to understand his character in a powerful and surprising way.
"We've all seen Dwayne in countless action films and he's so phenomenal," Thurber explains. "And in most of his movies, he's essentially a superhero without a cape. But I didn't want that invincibility in this one. I wanted to seem vulnerable. And I think this is his most vulnerable performance. And I think that is because he is a father and so he really understands his character's motivations."
Ultimately, Thurber understands that Skyscraper is an action movie and that people will walk into the theater expecting big explosions, intense fighting, and an endless flow of puns. But Thurber hopes viewers will also find something beyond the escapism.
"As much as I want this to be a movie that gets people excited with its big action scenes, I also hope people recognize the film's heart," Thurber says. "Skyscraper is about a family and the unique bond parents feel towards their kids. It's an extremely powerful connection and, for me, it's the driving force of the film."
– Skyscraper is out in wide release from Universal Pictures now.-
This article was originally published on