'Sister Sister' No More! Tia Mowry-Hardrict Talks 'Family Reunion' and Parenting
She was a teen when some of us were teens. Here's what Tia thinks about being a parent now.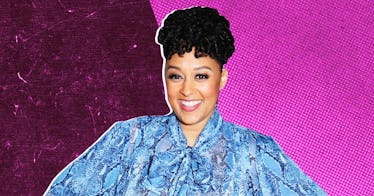 Getty
Tia Mowry-Hardrict is a constant – part of our collective past, present, and future. The talented teen from Sister, Sister went on to star in the fantasy movie, Seventeen Again; the cult classic, The Hot Chick; the popular Disney Channel movies, Twitches and Twitches Too; the long-running show, The Game; and the reality series, Tia & Tamera, with her twin sister, Tamera. Mowry-Hardrict currently stars on the award-winning Netflix series, Family Reunion, which just this week kicked off its third season, referred to as "Part 3."
Putting the passage of time in perspective, Mowry-Hardrict is now 42, married since 2008 to Cory Hardrict, is a mom of two, and plays a mom on Family Reunion. She also runs a supplement company, Anser, claims 20 million followers across Instagram, Twitter, Facebook, and TikTok, hosts her own YouTube Channel (Tia Mowry's Quick Fix), authored a cookbook (Whole New You, in 2017, with a second, The Quick Fix Kitchen, due out this fall), and is launching an upcoming homewares collection (Spice by Tia Mowry). Mowry-Hardrict came up for air just long enough last week to chat with Fatherly about her hectic pace, Family Reunion, and more… How are you and your family holding up amidst the pandemic?It's become our new normal. It's like I'm not even using the word quarantine anymore because we've been in the house for over a year. But we're hanging in there. I feel like there's light at the end of the tunnel. The kids are used to their routines and they're happy, so that's the only thing that matters. I feel like we can learn a lot from children these days, right? They're so good at adjusting.You're wearing many hats these days: actress, wife, mom, entrepreneur, author, influencer. What drives you to do so much at once? The spark or the motivation to start all of this was seeing my mom kind of lose herself. I didn't want to do that. I did not want to lose myself after becoming a mother. I wanted to continue to move forward with my ambitions. Then, I became inspired by my life and what I was doing, being a mom, cooking, and I wanted to just inspire other people. It makes me happy.What did it mean to you for Family Reunion to win an NAACP Award as Outstanding Children's Program?It always feels great when you're working on something hard and having a great time doing it. Then, when you see that other people are loving it just as much as you are, it's very rewarding. At the same time, it feels so great because I always look at things as not just about me. This is a great show for everyone to watch, be inspired by, learn from. This show helps spark conversations in families about certain topics they may not know how to talk about, like gender roles or police brutality against African-American families, and also just about the culture within the African-American culture. So, again, it's great, it's fun, but at the same time, it's purposeful and inspiring. Give us a preview of Part 3. What's happening with the McKellan Family?The creator of the show, she saw there was a lot of talent within the cast, meaning everybody can sing and dance. So, she was like, "Okay, let's utilize this." We have several episodes that are musicals. We have incredible guest stars, like Anika (Noni Rose), who's just amazing. She was the first Black princess in The Princess and the Frog. We have some Housewives of Atlanta, which was pretty fun. My brother Tahj, I haven't acted with him since Seventeen Again. To be able to share the screen with him was wonderful.You're working with Loretta Devine on Family Reunion and you co-starred with Jackee in Sister, Sister. Be honest… who has more energy?(Laughs) Oh, my gosh. You know what? I'll piss off one of them if I choose. I'm going to say both. Loretta, she's a G, which basically means gangsta, right? She's a powerhouse. Loretta can hang. The stuff they put her through on this show, when I read it, I'm like, "Oh, my God, there's no way she's going to do that," and then she shows me, "She's definitely doing it." Jackee, she's phenomenal, just this fireball when it comes to comedy. She's just so brilliant. She was my teacher. I just feel very grateful that I'm able to work with such great talent because they're teaching me and I hope to be like them when I grow up.Speaking of growing up, you started as a child actor. What's it like for you now to be playing a parent?I tend to choose roles or do things where I feel there's some authenticity. Yes, some actors really enjoy playing people that are not like them at all. But, I actually get joy in looking at roles that are similar to me. I was in a show called The Game years ago. Melanie Barnett was all about supporting her boyfriend and rooting him on. Corey Hardrict, my husband now, who was my boyfriend, was an actor and I was constantly his biggest support system. I could give my personal experiences to the role and, therefore, it becomes authentic. And then, it becomes relatable for the audience to embrace.I love playing a mom. It's one of my favorite things. I love working with children. They're just these tiny geniuses. It's also nostalgic for me when I work with children because it reminds me of when I was a child actor. I'm constantly giving the kids advice because I know what road they're heading down in the future, which sometimes isn't so kind. So, again, it's just a very rewarding experience.You've got countless fans who love Sister, Sister, and the Twitches movies and want more. What's the latest on any sequels/updates/reboots?In regards to Sister, Sister, I haven't heard any new news. I haven't heard any new news about Twitches, either. So, I'm not sure. But if one or both fall into place, you'd be on board?Oh, yes, of course. Of course.You created Anser, a supplement line, for very personal reasons. Take us through that… I launched Anser a year ago. It was first, basically, because of my own personal health journey. I was diagnosed with endometriosis, which is a highly inflammatory condition that can cause infertility. To suppress your symptoms, you have to have surgery, so I ended up having surgeries. Not just one, but surgeries. My doctor was like, "Look, Tia, if you don't want to continue to have these surgeries and if you want to have a baby one day, you're going to have to change your lifestyle." I was in my mid-20s. "What? What do you mean, change my lifestyle?" I did not understand what she was talking about.She told me certain foods can cause inflammation in the body and can exacerbate whatever condition you have, with any autoimmune or any underlying condition. She said there are foods that also can suppress whatever underlying condition you have. I decided to give it a go. I changed my eating habits and stayed away from processed sugar and dairy, processed foods. I was just eating more organic foods and exercising and taking supplements. I saw a huge shift within my health and was able to get pregnant. I wanted to share with the world my journey. That's when I came out with a book called Whole New You. When I was on this journey, I didn't see representation. Meaning, I didn't see women of diversity included in the conversation when it came to wellness. Even in marketing. I'm a huge believer in representation. If you see it, then you believe it. I decided to come out with Anser because of that. I wanted to make sure the supplements were approachable because everything was so overpriced. I'm like, "Wellness and health should not be a privilege. This should be something that's accessible and available for everyone."
Family Reunion is available now on Netflix.
This article was originally published on