'Shazam 2' Director Leaks Photo to Show Off Entire Shazam Family
These supersuits look amazing.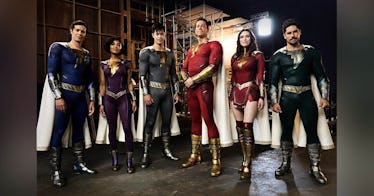 David F. Sandberg, director of the upcoming sequel, Shazam! Fury of the Gods is a god among men — and wise, too. Sandberg assumed that paparazzi and/or intrepid fans would leak photos of the cast in costume, so he went ahead, gathered together six of his superhero actors — including Zachary Levi as Billy Batson/Shazam — snapped a pic and shared it with the world.
The film, set for release in 2023, is in production now, following a year-long delay due to the pandemic. Shazam will face off against not one but two villains, with the great Helen Mirren as Hespera and Kill Bill's Lucy Liu as Kalypso. Mark Strong confirmed to Fatherly last month that he will not be back as Dr. Sivana.
As for Sandberg's new Shazam! 2 photo, here's who is in it: Left to right, Adam Brody (Freddy), Meagan Good (Darla), Ross Butler (Eugene), Levi, Grace Fulton (now playing both versions of Mary), and D.J. Cotrona (Pedro). The costumes seem as colorful as ever if also a bit more realistic and subtle, which is to say a bit less cartoon-like than the first movie.
Shazam! 2 is scheduled to open on June 2, 2023. Need more to tide you over in the meantime? Check out the 49-second teaser trailer below.
The first Shazam! is streaming on HBO Max. (Not to be confused with Shazaam, which, does not exist.)