Who Was That Talking Bug? Understanding the Post-Credits Scene in 'Shazam!'
Unless you are intimately familiar with the Non-Marvel "Captain Marvel" comics, you are probably confused by that mid-credits scene. We have the answer.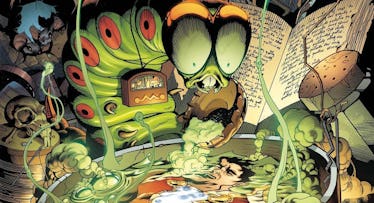 Credit: DC Comics
Shazam!, starring Zachary Levi, Michelle Borth, and Mark Strong, comes to theaters this week, hoping to bring some much-needed levity and child-like wonder to the needlessly grim recent-batch of DC movies. And after enjoying 132 minutes of Levi convincingly play a young teen discovering he has a variety of epic superpowers, you're going to want to stick around for the credits, as the mid-credits scene reveals who (0r what) will likely be the villain in a hypothetical sequel.
Warning: Spoilers ahead so if you want to watch Shazam! with fresh eyes, stop reading immediately.
The mid-credits scene shows us the fate of Dr. Thaddeus Sivana, the film's big baddie, who is trying to find his way back to the Rock of Eternity by scribbling the mysterious symbols onto his jail cell, to no avail. Suddenly, a mysterious voice tells Sivana that the Rock of Eternity is not the only source of magic and then alludes to greater magic that they will be able to harness together. At first, Sivana is confused but he eventually sees that the villainous monologue is coming from what appears to be a tiny caterpillar-esque creature.
Unless you have deep knowledge of the Shazam!/Captain Marvel (yes, there's an old DC character named Captain Marvel totally unrelated to um…Marvel's Captain Marvel) comic book mythology, you are probably wondering what the hell is going on. Fortunately, we have an answer. This malevolent bug is Mr. Mind, who has been described as "a cartoonish worm possessing an intelligence beyond that of human beings." In the comics, his powers include telepathy, hypnosis, and the ability to spin super-strong silk at a high speed.
Mr. Mind first appears in the Captain Marvel Adventures #22, eventually teaming up with Sivana to form "The Monster Society of Evil." So if Shazam!, which is currently receiving major love from critics, does end up getting a second chapter, don't be surprised if Mr. Mind helps break out Sivana so the two can bring the Monster Society of Evil to the big screen.