Does 'Shazam!' Have a Post-Credits Scene?
Should you stick around after the credits or can you make a beeline for the exit as soon as the movie is over? (No spoilers!)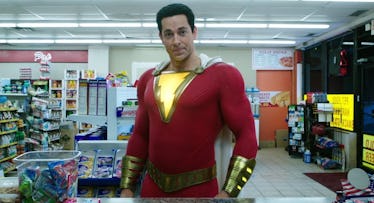 Shazam!, starring Zachary Levi, Michelle Borth, and Mark Strong, comes to theaters this week, hoping to bring some much-needed levity and child-like wonder to the needlessly grim DC Cinematic Universe. And once you have enjoyed 132 minutes of Levi convincingly play a young teen discovering he has a variety of epic superpowers, you will likely find yourself faced with one question: Is there a scene after the credits? After all, sitting around watching the credits roll can be a bore but it might be worth the wait if the movie ends up giving fans an Easter egg or hints at what the sequel might be about. So does Shazam! have a post-credits scene you should stick around for?
Without spoiling anything, let's just say that Shazam! has a mid-credits and post-credits scenes and both are totally awesome. The mid-credits scene gives a pretty large hint about an upcoming sequel, while the post-credits scene is just a fun throwaway joke that totally lands. So while everyone else is quickly heading for the exit, you're probably going to want to stick around to enjoy a little more Shazam! before heading out into the superhero-less real world.
Shazam! is already getting a ton of love from critics – it currently has a pretty super 92 percent approval rating on Rotten Tomatoes – and while post-credits scenes can often feel like an annoying, completely unnecessary trend that doesn't let the movie end when it's supposed to, Shazam! makes the most of its scenes.
Shazam! opens in theaters nationwide April 5.