The Most Underrated Marvel Movie Is Finally Streaming on Disney+
Did you sleep on this one? It's time to fix that!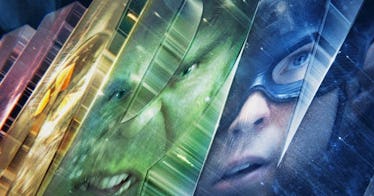 Credit: Marvel Studios
The greatest Marvel superhero of the past few years has finally come home. Although Shang-Chi and the Legend of the Ten Rings broke post-pandemic box office records, there's a good chance many families skipped it because it was only in theaters. But now, that's changed.
For Disney+ day, Shang-Chi is streaming at no additional cost. Unlike Black Window or Mulan, this means you do not — repeat do not — have to pay the additional $29.99 to watch Shang-Chi. It's just on there with a regular Disney+ subscription.
What Makes Shang-Chi So Great
Although many superhero stories focus on underdogs who find their story as heroes, the character Shang-Chi (Simu Liu) is unique insofar as he's a guy who is trying to shake a legacy of anti-heroes. Infamously, his father, Wenwu (Tony Leung) is the kingpin of a crime syndicate. So, like a martial arts version of Luke Skywalker, the journey of Shang-Chi is all about trying to avoid an undesirable family business.
Shang-Chi Brings Marvel Back to the Ground
After the kooky otherworldliness of WandaVision and Loki, what makes Shang-Chi so exceptional is that it reminds you that Marvel movies take place in the real world. Yes, there are some quasi-magical superpowers happening here — and a herd of fuzzy, mystical creatures — but tonally this movie feels more like the 2008 Iron Man than something like Infinity War or Captain Marvel. This vaguely "realistic" aspect of Shang-Chi is a good reminder of why everyone liked Marvel movies in the first place: Big purple space gods are cool, but the only reason we cared was that the MCU built a real, believable world first.
In Shang-Chi not every single person we meet is a superhero, and in this way, is also the opposite of the Eternals.
Older Kids and Tweens Will Love Shang-Chi
If you've got a Marvel-obsessed kid who is around 8 to 13 years old or so, the movie is sort of perfect. It's about a guy and his friends trying to figure out their place in the world. It might not be as accessible to younger kids as something like Thor: Ragnarok, but that's also kind of not the point. The aim of Shang-Chi is for us to watch someone become a hero. It may seem old-fashioned, but considering how dark Marvel has gotten lately (looking at you Falcon and Winter Solider episode 4, most of Black Widow) Shang-Chi is an almost pathologically optimistic movie.
No, Shang Chi is not for the "whole family," but it's closer to being a family movie than most MCU movies have felt since, perhaps, Spider-Man: Far From Home. It's not a perfect movie, but it is fun as hell, and most of all, refreshingly upbeat. Oh, and the soundtrack is great.
You can watch Shang-Chi on Disney+ right here.
Here's how to watch it with the "IMAX ENHANCED" feature
This article was originally published on