The Big Bad of 'Shang-Chi' is a Bad Dad Covered in Marvel Easter Eggs
Here's what's up with Shang-Chi's evil dad, and why he's kind of been lurking around the MCU since 'Iron Man.'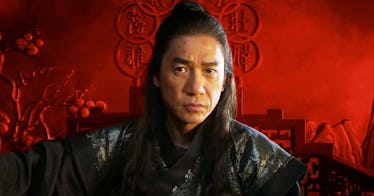 Disney
The best thing about the trailer for Shang-Chi — other than it looks like a fantastic martial arts flick — is that unlike a lot of Marvel products lately, it looks like you don't have to know a whole lot about the backstory to get into it. Starring Simu Liu as the titular Shang-Chi, the movie is poised to be an origin story of a hero trying to shed his roots to a large criminal syndicate called "The Ten Rings."
So, if you don't know anything about Shang-Chi in the Marvel Comics OR if you're kind of fuzzy on the MCU timeline, you're good. This movie is designed to be a crowd-pleaser for all, and with a release date of September 3, 2021, could be a great way to head back to the movie theaters. (Fingers crossed!)
But…if you are really into the interconnectedness of the Marvel movie and TV universe, Shang-Chi does have some sly, sideways connections to Iron Man and Ant-Man. The existence of the terrorist group "The Ten Rings," has been teased out since Iron Man, and Iron Man 3. TLDR: One cell of the "Ten Rings" were the terrorists who capture Tony Stark at the VERY BEGINNING of the first Iron Man. And, the guy in charge of the Ten Rings is Wenwu, played by Tony Leung in Shang-Chi.
Wenwu has a lot of aliases, including "The Mandarian." To be clear this is not the same faux-Mandarian played by Ben Kinglsey in Iron Man 3. Wenwu is kind of the real Mandarin. Speaking to Entertainment Weekly, the producer Jonathan Schwartz s said: "I think people hear 'the Mandarin' and expect a very specific kind of thing, and that may not be the thing they're getting. They're hopefully getting a more complex and layered take on the character than that name would lead you to."
In the trailer, the biggest tension for Shang-Chi himself is that the Mandarian/Wenwu is his dad. And that conflict is the basic core of the movie. Marvel head-honcho told Entertainment Weekly that: "This is not a 'Luke, I am your father' twist. [Shang-Chi] knows who his father is, and he's decided to leave that world behind before he's pulled back into it."
Shang-Chi and the Legend of the Ten Rings hits theaters on September 3, 2021. It is not expected to go straight to Disney+ like Black Widow.
This article was originally published on