Watch These New Sesame Workshop Short Films With Your Kids
Building empathy for families in crisis and reminding those enduring difficulty that they're never alone.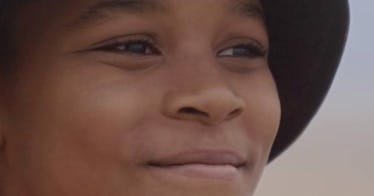 Sesame Workshop will enter the documentary arena for the first time ever this summer with Through Our Eyes, a series of four 30-minute films that will premiere July 22 on HBO Max and explore children's perspectives pertaining to such issues as climate displacement, homelessness, military caregiving, and parental incarceration. Five award-winning and award-nominated directors were tapped by Sesame Workshop, the nonprofit behind Sesame Street, to create the short films, which are meant for adults and as a co-viewing experience for kids ages nine and older.
For example, the initial film is titled APART and is co-directed by Primetime Emmy award-winners Geeta Gandbhir (I Am Evidence, Call Center Blues) and Rudy Valdez (The Sentence). The synopsis reads as follows: "One in 14 American children will experience the incarceration of a parent, and 2.7 million children have a parent in prison right now. This introspective portrait of loss intertwined with moments of joy reminds us of the forgotten consequences of the criminal justice system – the families of those left behind. APART shares the experiences of three resilient children navigating the complex emotional challenges of their parents' incarceration as their families work to provide stability and support."The subsequent films are UPROOTED, HOMEFRONT, and SHELTER."Sesame Workshop has always worked to understand the most crucial needs of children and families, creating content that helps equip, inspire and build resilience to better prepare them for life," said Kay Wilson Stallings, Sesame Workshop's Executive Vice President of Creative & Production. "With Through Our Eyes, we bring viewers into our process of understanding the unique and immense challenges faced by children today. Our hope is to build empathy for families in crisis and remind those who are also enduring difficulty that they are never alone."Through Our Eyes will debut Thursday, July 22 on HBO Max.